Exclusive research: Gen Z and millennials are going to drive furniture sales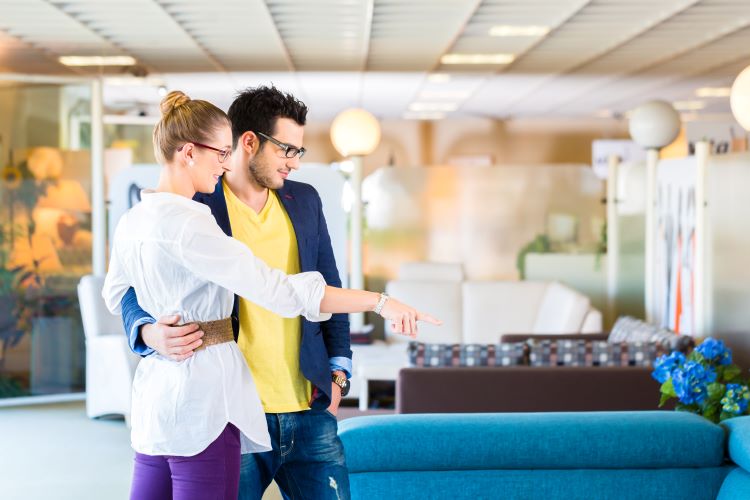 Millennials and Generation Z are driving home furnishings purchases, with nearly 70% of all purchases in the second half of 2022 expected to be made by those two groups, according to new, exclusive Consumer Insights Now research.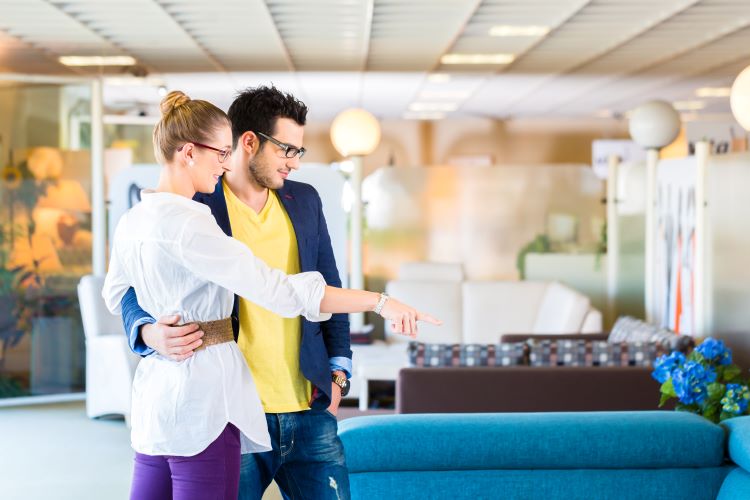 Their purchasing power is even more notable when you consider that even together, they make up only 45% of the population. But, as the survey shows, Gen Zers plan to purchase at a rate 1.7 times higher than their presence in the population; Millennials plan to purchase at a rate 1.5 times greater.
A quick takeaway: If you're not marketing specifically to these groups, now is the time to start.
These insights come from exclusive consumer research conducted on behalf of Decor News Now and our sister publications Home News Now and Casual News Now. The research is sponsored by ChargeAfter and Genesis Credit.
Actionable research in 6 parts
Consumer Insights Now queried nearly 2,000 consumers about their plans to purchase home furnishings in the second half of 2022, asking what categories they plan to shop, where they plan to shop, what style furniture they prefer, whether they'd like to buy in-store or online, what product features matter most to them, and so much more.
We're giving you a sneak peek here. We'll release comprehensive national results on Monday, Sept 12. Then, over the following five weeks leading up to the High Point Market, we'll break down results across five U.S. geographical regions so that you can use the information to target consumers in the specific areas you serve.
This round of research is just the start. We'll repeat the survey in advance of the Spring 2023 High Point Market, providing you more forward-looking market data. That research will include valuable follow-up data to this inaugural survey, showing what these consumers actually purchased. Dana French, who has more than 20 years of home furnishings and consumer research experience, leads the project.
More on how they shop, what they want to buy
Let's dive back into some of the generational insights from the national survey because they're interesting. Although the Gen Z bracket includes young teens, the survey only includes adult Gen Zers ages 18-25. It breaks millennials — currently the United States' largest generation — into two groups. Younger millennials are ages 26-33; their older millennial counterparts are 34-41.
A couple of notable characteristics of Gen Z to keep in mind: They are the first truly digital generation and most spend a remarkable amount of time on social media, using it not just to connect with friends but to shop, research topics, entertain themselves, check the news. It's also the most diverse generation in history. Gen Zers care about social justice, the environment and racial equality, but watching their parents struggle during the Great Recession and facing the Covid-19 pandemic have made them more pessimistic than millennials. They're also at an age when they are graduating from high school and college, setting out on their own — and forming preferences for brands that could stay with them for years.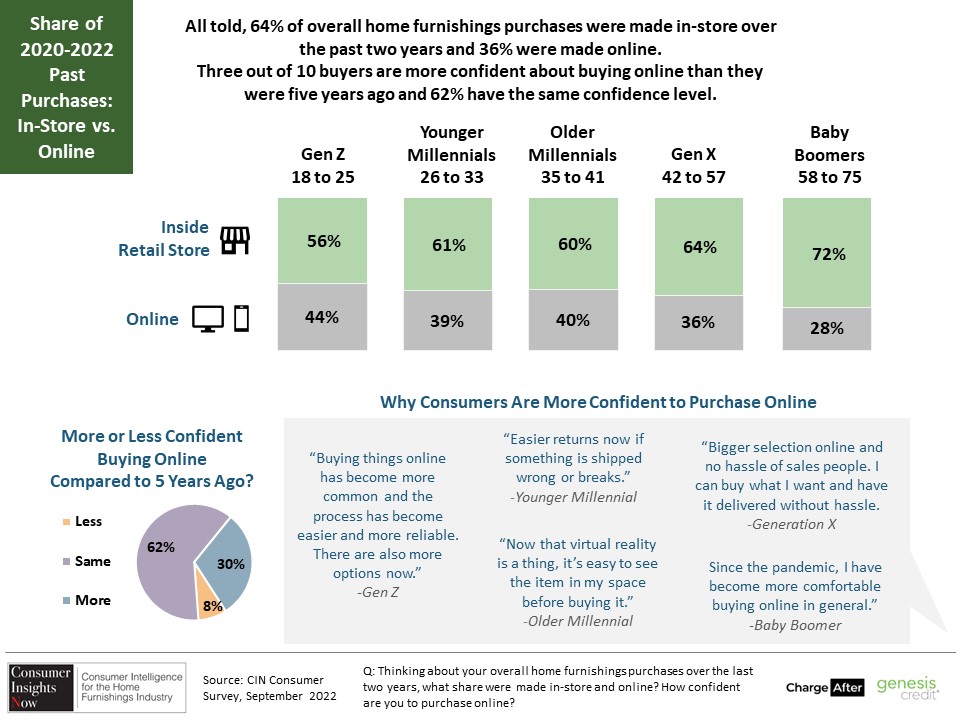 Millennials, like the baby boomers before them, have been setting trends in home furnishings and other product categories, for a while now. They are better educated than previous generations, with the biggest gains going to millennial women, who outpace millennial men in earning bachelor's degrees. Millennials were slower to marry and start families than past generations but, as the Consumer Insights Now survey says, "Today's millennials are in acquisition mode as they are raising families and advancing their careers." They are less pessimistic than Gen Zers, the survey says, and "are looking forward to tomorrow."
Given their status as "digital natives" and "early adopters," we might expect Gen Z and younger millennials to be doing most or all of their furniture shopping online, but they are still making a significant number of home furnishings purchases in-store, with 56% of Gen Z's purchases, 61% of younger millennials' purchases and 60% of older millennials' purchases made in-store in the past two years.
Of all the generations, Gen Z made the most home furnishings purchases online (44%). As Gen Z shoppers age and hit more of those life transitions that tend to prompt furniture buying — graduating college, buying a house, getting married, having kids — that could translate to a lot of online buying.
What are these generations shopping for? Gen Zers are in the market for wall decor (49%), decorative accessories (46%), and sofas and other living room furniture (both at 41%). Those purchases make sense given their stages of life: Gen Zers may be buying pieces they can easily move and that will quickly personalize their spaces. And, if you're moving into a new place, a sofa is often the next big piece of furniture you'll want to buy, after a mattress.
Younger millennials put a sofa (47%) at the top of their list of planned furniture purchases, followed by decorative accessories and wall decor (both 43%). Next on the priority list: a mattress for a primary bedroom and an area rug (both 36%).
The shopping list for older millennials is similar, with a sofa (44%) topping the list of items they plan to buy in the second half of 2022. Also on their list: decorative accessories (36%), followed by a mattress for a primary bedroom and wall decor (both 35%).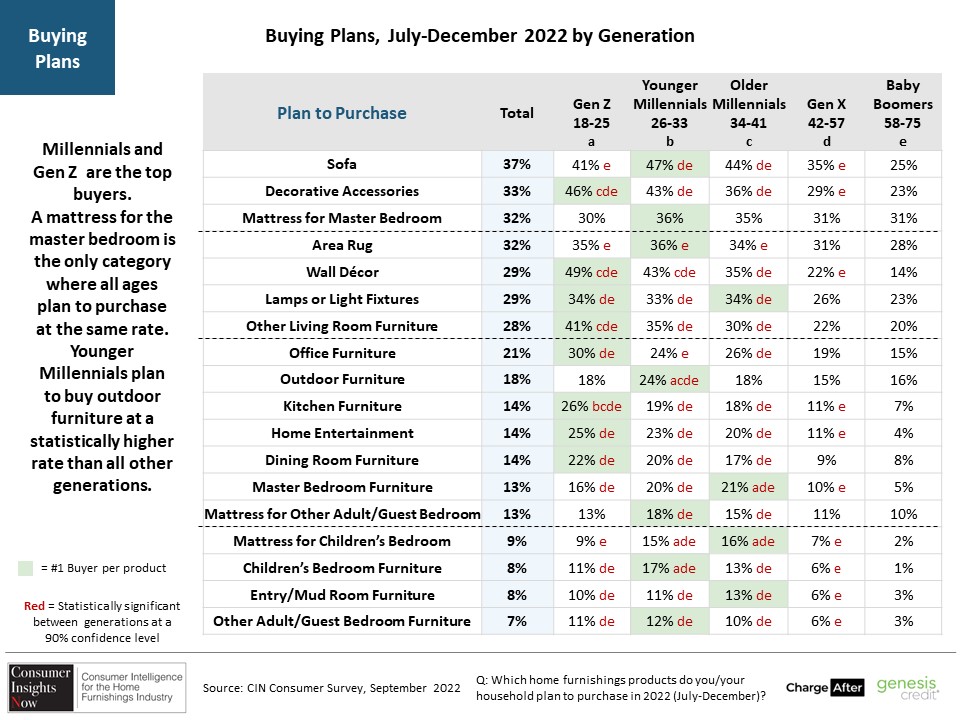 There is so much actionable information in the Consumer Insights Now survey results, and we're excited to share the results with you in the coming weeks. Look for more highlights in our Aug. 31 newsletter.
About the survey: Consumer Insights Now surveyed 1,993 U.S. consumers from July 11-13, 2022. All respondents planned to purchase one or more home furnishings products between July and December 2022, and all were either the primary or joint purchase decision-maker. The sample includes a mix of females and males, ages 18 to 74, and includes a representative mix of ages, ethnicities, household incomes and homeowners/renters. The research is sponsored by ChargeAfter and Genesis Credit.