Cassie Adams rebrands to offer artwork and textiles, along with design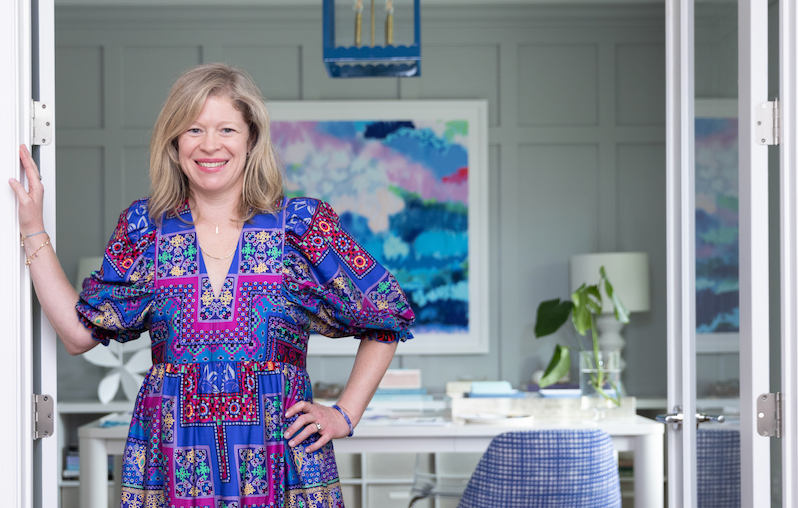 Designer Cassie Adams is rebranding her Cassie Adams Designs business to highlight her triple talent as an artist, interior designer and product designer — all with the goal of bringing "the happy perfect" to clients' and consumers' homes.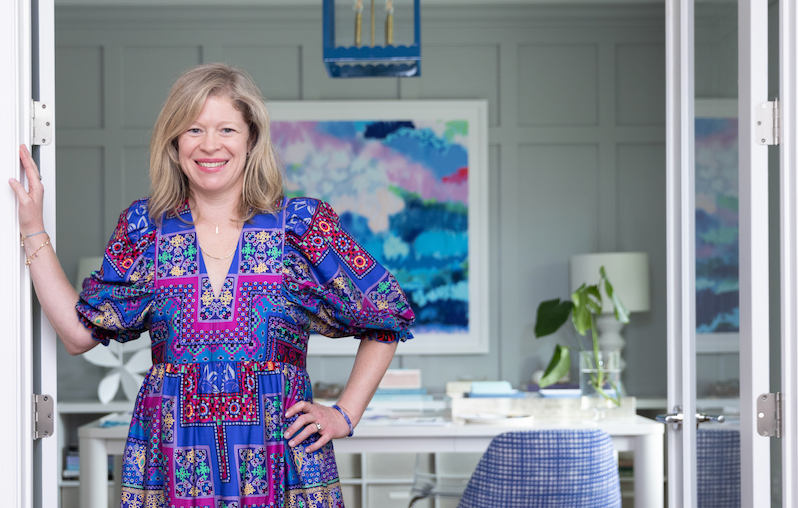 An artist by training, Adams' career led her to interior design, which has been her focus for many years. Her rebranding with a new website is a way for Adams to be a go-to resource for other interior designers, providing them with artwork and textiles for their clients' projects. She also hopes it will be a launching pad for partnerships with home furnishings brands.
"Integrating art into interior design is so, so important to me," she says. "With my new brand's emphasis on artwork and textiles, I am eager to collaborate with designers and businesses and share my art expertise and designs through great partnerships. I am enthusiastic about the prospect of creating signature collections and showcasing my distinctive designs with leading brands."
Offering wall art and art-inspired textiles in addition to her design services makes sense given that Adams approaches those pursuits with a similar mindset: "I want a room to feel like it brings you joy. That's how I approach making art. … I want to uplift you when you see it."
And that brings us to "the happy perfect" that Adams hopes to create through all her work. "I want you to feel happy in your space. To me, 'the happy perfect' is about having a space that makes you feel joyful when you go into it. … When life is chaotic and things aren't going well, I want you to have a space where you feel like, 'This feels great to me!' To me, that is perfect."
It's an attitude Adams has cultivated over her years as an interior designer. One of her strengths, she says, is rolling with the inevitable snafus, mistakes and delays that hamper projects. "I'm a problem solver. … You have to know that things are going to come up and you have to fix them on the fly. In the moment, you might think, 'Oh, my gosh. I don't know what's going to happen.' But you have to trust that when it's all done, it's like none of the problems ever happened. It's all wonderful. It's perfect — and it's happy!"
An artist first
Although her recent focus has been interior design, art has been a part of Adams' life since she was a child. Her father "is a cardiologist, but if he wasn't, he would be an art historian," she says. Her parents regularly took her to museums during family vacations and she attended K-12 schools with robust art programs.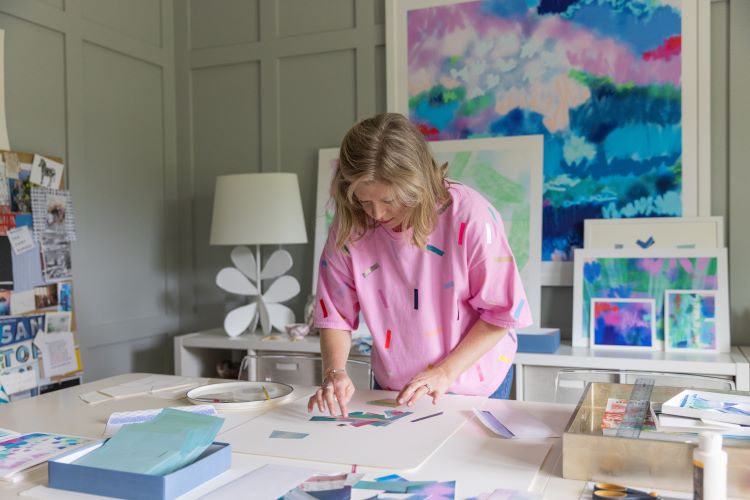 Adams majored in visual arts at Duke University, studied at the SACI College of Art + Design in Florence, Italy, and then worked for a New York City art gallery. Her evolution from artist to product designer and interior designer started about that time. She launched Cassie Adams Designs initially as a graphic design company specializing in custom stationery and invitations, and then met an interior designer who encouraged Adams to join her small firm. Finding an affinity for the work, Adams earned an associate's degree in interior design from Parsons School of Design. There, she discovered a passion for collage and began designing fabrics, too. After graduating, she continued to concentrate on interior design, occasionally creating fabrics or artwork for clients' homes — or heading into her studio to sketch, paint and relax.
Fast forward to March 2020. Adams and her husband are moving from Washington, D.C., to Raleigh, North Carolina — with their things arriving the day that schools and nonessential businesses closed throughout the state in an early effort to stem the spread of Covid-19. They had a young son, Henry, and would have daughter, Beatrice, in April 2021.
It was a busy time in their lives, but also strangely still because of the pandemic. Like others, Adams took some time to reevaluate her career. In her head was the voice of one of her earliest and biggest cheerleaders, an aunt who had long encouraged her to pursue her art and who had died in an accident in 2018.
"It hit home during the pandemic when everyone was kind of in their own bubble: Maybe I want to focus on something else I really love and would like to share with others," Adams says. "… I'd been super, super busy with (interior design) clients but I thought, 'I want to make some space for my art and for myself. Why wait any longer?'"
Her artwork these days combines detail photographs taken from physical paintings and collages with digital drawings. As her new website explains, "these are done by hand with a stylus using mixed media elements from pencil and marker to pastel and oil crayon, creating beautifully layered works." In a section of the site, Adams shows how each layer comes together and then reveals a final piece.
Bringing it all together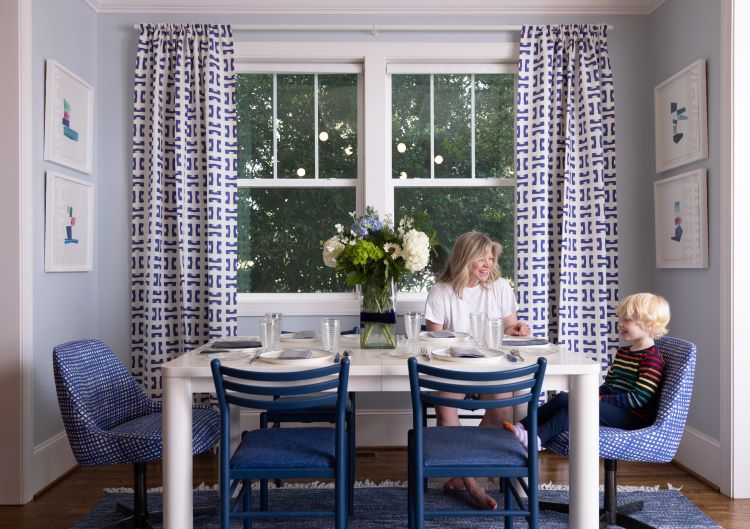 Through her rebranding, Adams brings all her creative outlets together. The website features her artwork (limited edition, one of a kind and open edition), her full-service interior design (from a single room to an entire home) and her textiles, including fabric yardage. Many of her fabric designs are based on her paintings or drawings. Others are inspired by traditional patterns but updated.
Adams is also introducing a line of pillows in three sizes. Both the pillows and her custom fabrics are made of 100% Belgian linen from Adaptive Textiles in West Chester, Pennsylvania. "All they do is fabric, and they have really gorgeous grounds," she says. "I love the way they feel, and I can get the colors just the way I want, which is so important to me."
The pillow launch has been slightly delayed so that Adams could get the photography just right. The timing, now set for spring, has become one of those "happy perfect" moments Adams likes to create. "People always feel this sense of rejuvenation in the spring: You want to update your house, even if it's in little ways. Pillows are a perfect way to do that."
Adams' artwork is printed by JW Image Co. in Raleigh, that, like Adaptive Textiles, produces "colors that are really just beautiful," Adams says. Soon she'll offer an option for torn edges on her artwork, making a piece perfect for floating in a frame.
In the coming months, Adams also will be solidifying some partnerships and embarking on an effort to give back to her community by supporting an arts education organization. "I'm really excited about finding the right organization to work with and finalizing that. It's very important to me to give back to the community," she says. "It is such a joy and a privilege to get to make art — to do something I love and adore."