Wallpaper source Color Kind Studio adding rugs, fabrics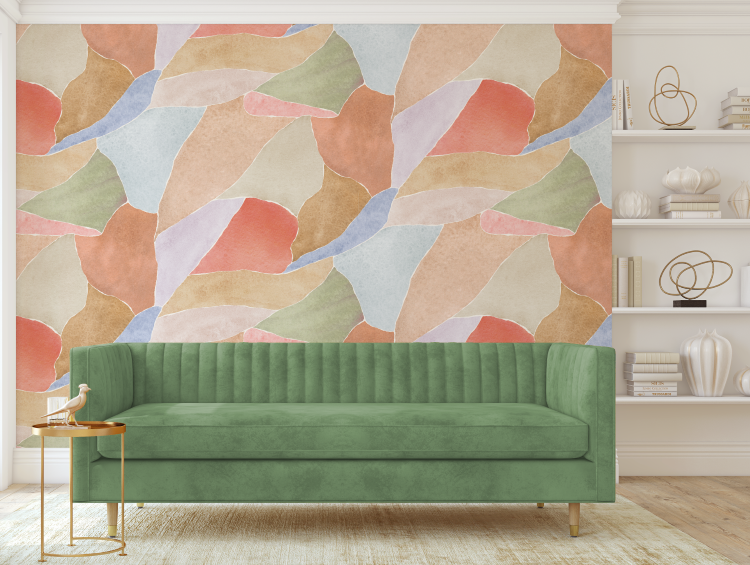 Just two years after launching wallpaper source Color Kind Studio in Dallas, Jill Elliott is expanding the business into fabrics and rugs and expects to have her growing product line in showrooms later this year.
But even as she moves into new categories, Elliott wants to keep her business rooted in her love of color and art and committed to its mission to "Happy Your Home."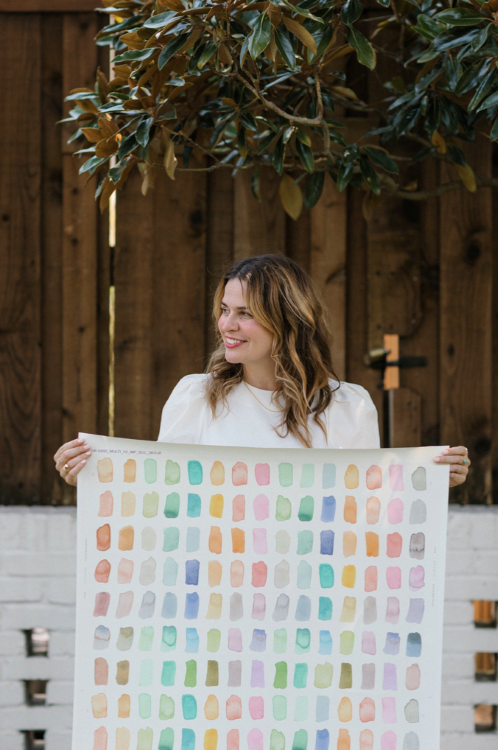 "I love knowing that my art can live in somebody's space, that it can be a part of their environment where they are making memories," she says. "… And I love that through (wallpaper), people get a different experience living with art than they might with a single painting."
From fashion to home furnishings
Elliott is new to home furnishings but spent 20 years working for fashion accessories brand Fossil, starting in marketing and then moving into product development, eventually becoming chief creative officer. So, she knows what it takes to shepherd a product from conception to production to sale.
She has long had an interest in art, taking art history classes in college while she was earning her degree in marketing, and after graduation, she continued to take painting and sketching classes. During a tough time in her personal life, she started painting regularly.  "I was doing yoga and therapy and all the things you're supposed to do when you're going through a big transformation, but I found that painting was the only time that I could find a kindness and calmness in my body."
That time in her art studio also made clear to her that although her title at Fossil was chief creative officer, she personally wasn't "actually creating anything anymore." "I love to make things and I love to do the strategy that goes along with the making, but at that point, I was mostly doing strategy," she says. The extensive travel the job required also took a toll on Elliott, who wanted to spend more time with her daughter, Sofia, so Elliott decided to leave the Fossil.
While trying to decide what was next, Elliott spent more time painting, as well as writing on social media about art and her belief in the importance of developing a creative practice. A continual remodeler of her home — "I've been in this house 6 ½ years and we've done three remodels," she says — Elliott also undertook a makeover of a few rooms, including her daughter's bedroom and a guest powder bathroom.
"For the powder bath, I wanted (wallpaper) that was really colorful and happy, but also very calm and soothing because I think a lot of times when people come into your home that's the first place they go. It's kind of like, 'OK. Let me catch my breath.' I was finding all these amazing, colorful patterns, but they weren't necessarily calming," she says.
Frustrated, Elliott asked her interior designer if they could turn a piece of her art into wallpaper. She posted an image of that first wallpaper pattern, Color Grid, on social media. "I had a bunch of people that had been following me for art practice reach out and ask, 'Where can I buy this?'"
Working with a designer she knew from her time at Fossil, Elliott learned to scale and repeat elements of her paintings for wallpaper and found Twenty2, a family-owned wallpaper and fabric producer in Bantam, Connecticut, to produce them.
Color Kind Studio was born. The "Color" comes from Elliott's love of color, which is her starting place for every painting and product design. The "Kind" is an ode to how the business grew from Elliott's decision to make time in her life for creativity and art — time just for herself. The company's team members all have a design or art background and share a passion for home design, Elliott says.
Wallpaper and more
Color Kind Studio's wallpapers are printed on demand. Elliott likes that Twenty2 sources its paper stock from its area and uses digital printing techniques and water-based inks to reduce the environmental impacts of the production process. "I knew that any business I went into next, I wanted to find the most efficient way to produce a product so that it does the least harm," Elliott says.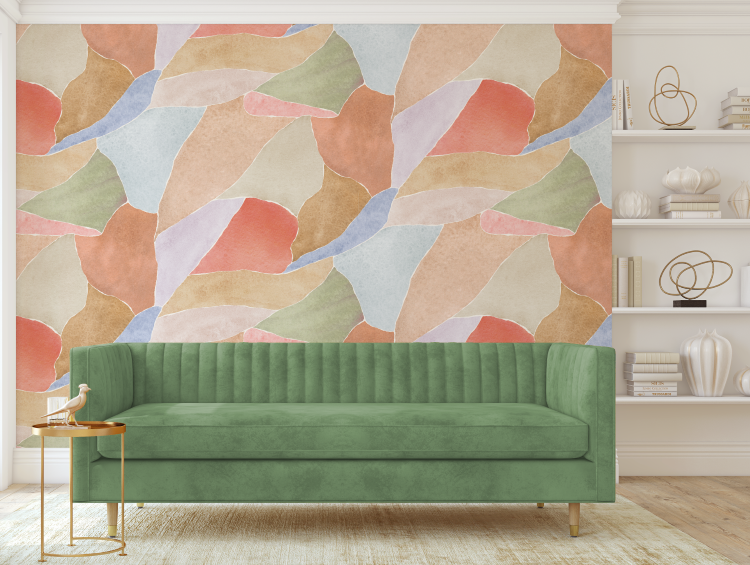 Most of Color Kind Studio's wallpaper patterns start as watercolors. "One of the things I love about watercolor as a medium is you don't always know exactly what's going to happen with it because it's water and it moves," she says. "It breaks down that perfectionist part of you: It might turn out how I want, and it might not, but it's still going to be interesting."
Of the current wallpaper line, about half the designs evolved from Elliott's paintings and half are fresh designs created specifically as wallpaper patterns. Lead times for wallpapers available through the company's website are four to five weeks.
Color Kind Studio strives to be designer-friendly, offering custom wallpaper designs, colorways and even murals, in addition to its own patterns. Tweaking the colors of an existing pattern adds about two weeks to delivery times, Elliott says. Fully custom orders take an additional two months, on average.
"I love working with the interior design community," she says. "I love getting to see the unexpected ways that they might use our patterns in a project and what other colors or materials they put with it. It's so inspiring to me to get to continue to work with other creatives."
The original Color Grid pattern that launched the company remains among Elliott's favorites and is available in several colorways. "I had gotten kind of soft on it for a minute because I'd lived with it for a while but then we just got the fabric swatches in of it, and I fell in love with it all over again," she says. "I love the painterly aspect and that you can see the watery imperfections that come with watercolor."
The company recently launched the Wanderhome collection, including Color Quilt, Swipes and Tossed Swipes patterns. Soon it will add to that group a larger-scale Landscape pattern in three colorways. Landscape is another of Elliott's current favorites.
"It's one that came from a painting, not specifically for wallpaper," she says. "I was on a call with my team, and they were like, 'What's that painting behind you? We're going to make that into a wallpaper.' And we did but it took us a long time. I painted it last February and we started on the wallpaper design last April. It's taken us that long … to reinterpret the original painting."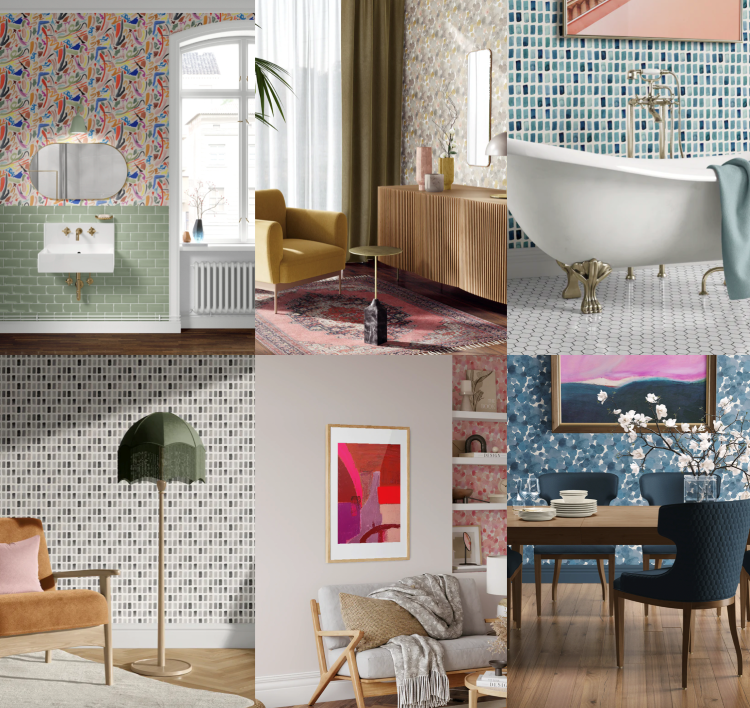 What's next
In addition to wallpaper, Elliott's fine art oil paintings are also available for sale through Color Kind Studio.
Up next from the company is a small line of nature-inspired rugs in collaboration with the Lepere design studio and showroom in New York. (Owner Dominic Lepere is a longtime friend of Elliott's.) "(They) are really different for us because each carpet is a mono color, and the pattern comes through the different yarn qualities, textures and weaves," she says. "We've been working on this for over a year and we're getting close to seeing the samples, which will be amazing because we'll be seeing the flat designs come to life."
Color Kind Studio is also launching a yardage fabric line based on some of the company's wallpaper designs that Elliott hopes to then expand into pillows and other textiles.
And Elliott is working on deals to get her products into retail and design showrooms in the coming months. She isn't quite ready to name the partners who will carry her products but says she's focused on partners who appreciate color as much as she does. "We have a little bit of fun with color, and our combinations — even our neutrals — have nuances in them that you don't always see in other lines. So, we're looking for partners who play well in the color space," she says.
As she continues to build her business, Elliott is determined to not do what she did at Fossil and get removed from the creative process that she loves so much. "I think finding a creative outlet — whether that's writing or cooking or dancing or painting — has so many benefits for people. … If you play, find some flow, it opens you up to new experiences and ideas that take you other places."
More for you: Jill Elliott's top wallpaper trends
New spaces: "I love seeing the more unexpected places that wallpaper can show up, whether that's a ceiling or in a cabinet or behind bookshelves. … I think it's interesting to see people who are maybe wallpaper hesitant or pattern averse find ways to use it and get comfortable with it. … I love seeing designers and customers use it in a way that's almost just for them — a hidden gem instead of it being the focal point of a whole room. Though, obviously, I love wallpaper being the focal point, too," she says with a laugh.
Ends of the color spectrum: "I think it's interesting what's happening with color. I think there are two opposing stories happening at the same time. (First is) a neutral exploration with lots of textural neutrals. It's a very subdued palette. And then you're also seeing super intense shades like Pantone's color of the year (Viva Magenta). All the really intense greens and blues and plums continue to be important. I love that opposing forces are happening, and not everybody is playing it safe in the middle."