Custom fit: John Thomas Furniture adds custom fabrics for soft seating
For the past 14 years, John Thomas Furniture has been known for its custom capabilities on the wood side, particularly the multiple finishes it offers in its Select program.
The program is a value-added service — that combines with the assembly of imported whitewood components — for dining, bedroom, occasional and accent furniture produced in the company's plants in High Point and Thomasville, North Carolina.
Earlier this year, the company entered a new realm of custom capabilities, thanks to a new fabric program available for dining chairs, benches and stools.While no stranger to options, this program takes the Thomasville-based company's custom capabilities to a level well beyond the dozen fabrics available in its standard fabric program.
For example, a new designer-level offering has added 60 fabrics to the mix, while the premium level is a special-order program that offers an unlimited number of fabric options, said Bryan Sprinkles, vice president of sales and marketing.
While the company had some experience with multiple fabrics in its standard offering, the two new programs have added a layer of complexity that required the company get up to speed on fabrics.
Sprinkles said the addition of the custom fabric line — available for an upcharge of $25 per chair at the designer level and $35 per chair at the premium level — was largely driven by demand for soft seating instead of solid wood seating.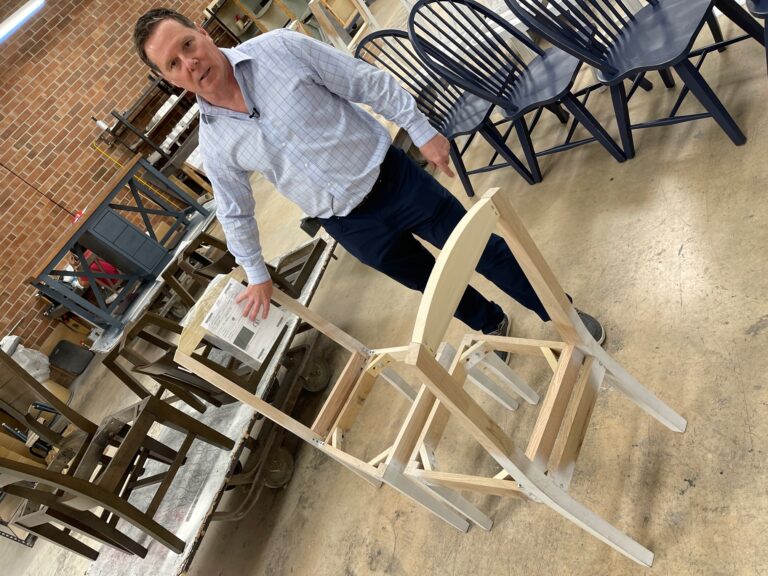 For example, several years ago, 28% to 32% of everything the company shipped had a soft seat. In 2020, that rose to more than 50% and last year, soft seating represented was almost 60% of its orders.
"In all transparency, of course, we are a solid wood company. It is what we do," Sprinkles said. "We are case goods people, not upholstery people. So, I had to get educated really fast."
Fortunately, he said, he knows a lot of people who work in the fabric side of the industry, which helped introduce him to some of the offerings available. The company also takes direction from retailers based on what they perceive as style trends in the marketplace.
"One of the advantages of living in this community is half the people you know are probably in the industry in some form or fashion," he said of contacts and associates in the High Point area. "So, I leaned on some friends of mine that are in the fabric industry and also leaned on some of our customers that do a very strong upholstery business. … I just leaned on people in my circle to help guide me in the right direction."
"And we also permit COM, so a lot of customers and the design trade were sending in their own materials and we were covering their seats for them," he added. "We saw that side of the business elevate (and) we said we really need to expand upon this to give our customers what they really wanted."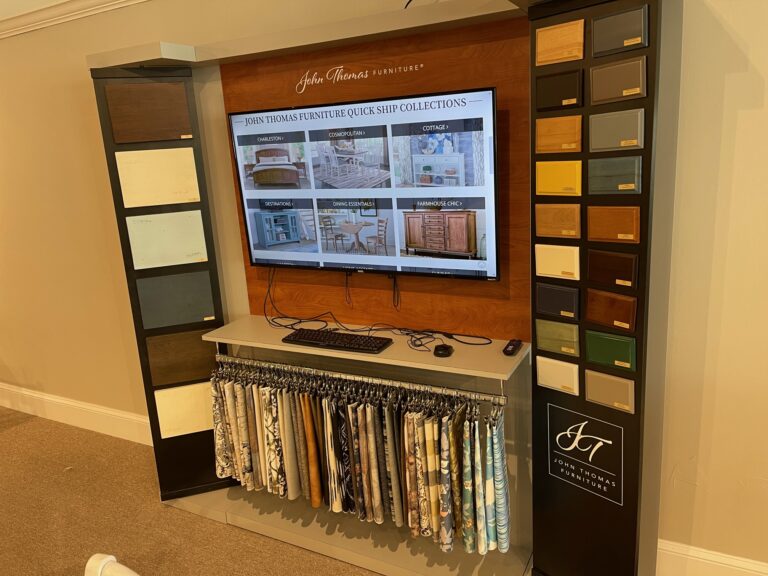 Because the seats are basically 20-inch- by 22-inch-wide squares, there wasn't much of a learning curve when it came to the actual upholstering process as the company already was producing soft seats in its standard fabrics.
"We would take the same seat that comes on that chair or stool and then we would wrap that seat with the appropriate foam, so it was really kind of a simple process," Sprinkles said.
In addition to the actual fabric selection, another learning curve has come with fully upholstered chairs the company now offers on the residential side of the business. For this highly specialized work, Sprinkles said the company gets assistance from its hospitality division in High Point, which has experience with fully upholstered chairs.
"It has been doing that type of work for many, many years, so we lean on them to help us with that," Sprinkles said. "And they have upholsterers and sewers to complete that type of work."
He added that the supplier network also has been supportive with different mills that have fabrics available through their warehouses or through cut yardage programs the company can pull from as needed.
"It just gives you a huge assortment," Sprinkles said.At the High Point Market in April, the company also showed various dining sets with tables and chair frame featuring finishes that complemented the colors and designs of the fabrics on the chairs. The response from customers, Sprinkles said, was positive, giving the company a vote of confidence that it is headed in the right direction from a design standpoint.
As with finishes, Sprinkles noted, the fabrics will continue to evolve with new selections introduced over time that replace older looks with more fashion-forward statements.
"It is just another part of the program to manage," he said of the need to continue updating the line. "It is maybe not something we had planned to do 10 years ago, but again that is the beauty of having a detailed custom program. It is really the consumer that dictates where we should go with it. We watch — as special orders are coming in — and see what colors are trending, what wood finishes are trending and what styles are trending. The same thing will occur in fabrics, and we will monitor that and watch what's moving, and what's not and adjust accordingly. Whether that is biannually or annually, I am not sure yet, but we will let the consumers dictate how we move forward."