Design Business Blueprint: Networking Your Way to Success

Welcome back to the Design Business Blueprint, your monthly source of insights and strategies to elevate your interior design business. In this edition, we're diving into a topic that's vital for your growth and success: Networking. In our dynamic interior design and home furnishings industry, staying connected and engaged is an essential key to thriving. Let's explore why networking is so crucial, how to do it effectively, and where you can find valuable opportunities, including the upcoming, highly anticipated High Point Market.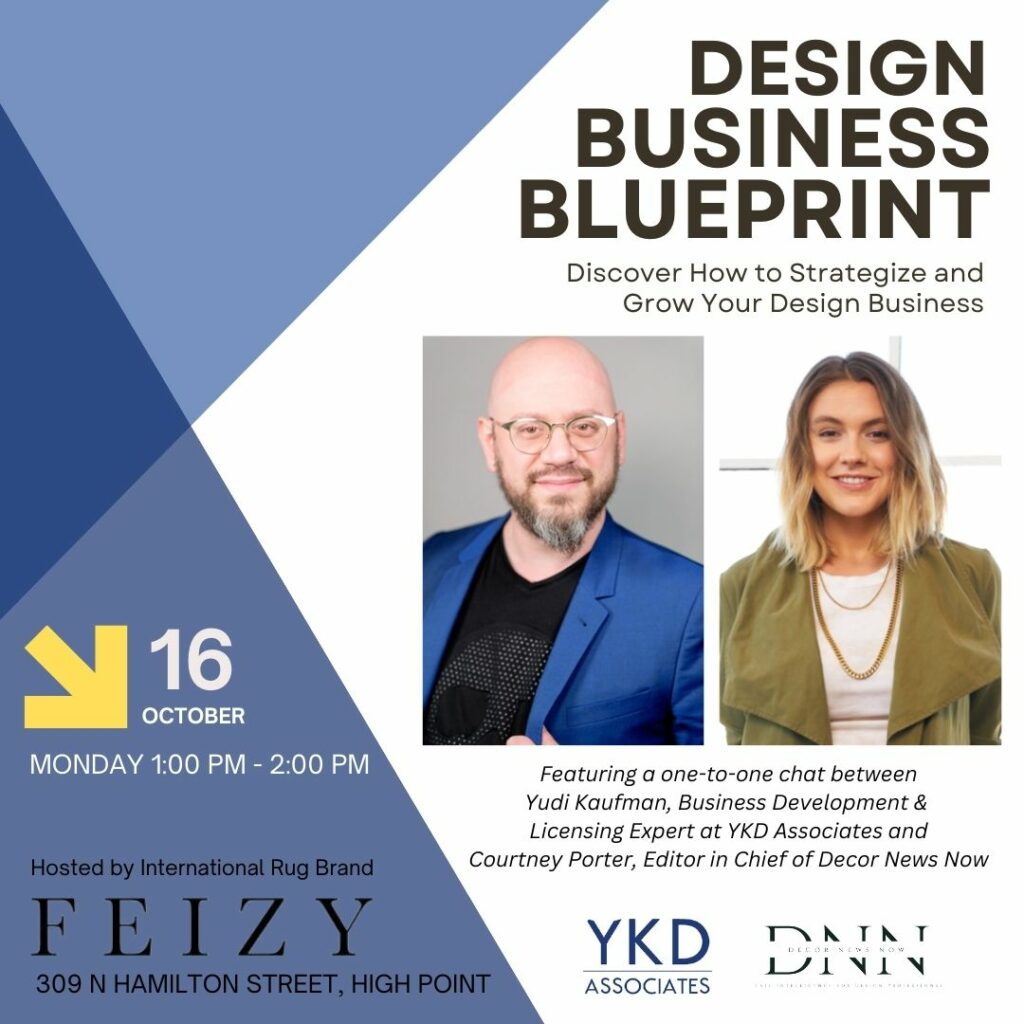 The Power of Networking
Networking isn't just about exchanging business cards or connecting on LinkedIn; it's about building authentic relationships that can help transform your interior design business. In an industry where trends evolve rapidly, having a network of like-minded professionals, suppliers, and potential clients can be a game-changer.
Why Network?
First and foremost, networking helps you stay in the loop. The interior design world is constantly evolving, with new materials, styles, trends (and, of course, technology, which we will cover in a future edition of Design Business Blueprint), and new challenges emerging regularly. By connecting with others in the industry, you'll be creating meaningful relationships that will expand your access and help you keep your finger on the pulse of what's happening. This is an important aspect in ensuring you're always delivering fresh and relevant design ideas and solutions to your clients.
Having a solid network of professionals you can trust is an invaluable resource and can open doors to possible collaborations. Partnerships with the right people can also lead to opportunities for new projects and overall business growth. You might meet a talented architect, a busy real-estate broker, a skilled artisan, or a reliable supplier through your network, enriching your offerings and credibility. Remember, these relationships can also lead to referrals, so establishing authentic connections with professionals who operate adjacent to the interior design industry is equally as important to those within the industry.
Effective Networking Strategies
Now that we understand why networking is essential, let's explore how to do it effectively. We will be expanding on some of these strategies in future months, but here's some initial ideas for you to consider. 
Online Networking: Start by increasing and optimizing your online presence. Maintain an updated and professional LinkedIn profile. Get active on Facebook. Yes, you read that right…Facebook is a great place for you to follow and engage with industry influencers, join relevant groups, and participate in discussions to showcase your expertise and ask for advice when you need it. While social media, in general, is an important place to promote and market your business (something we will delve deeper into in future months), don't underestimate the power of engaging in meaningful forums and conversations on any social media platforms.
Attend Industry Events: Physical and virtual industry events provide excellent networking opportunities. While virtual events are a great resource for information, the impact you'll have from attending in-person events will be far greater. Whether you go to industry organization local chapter events, or major international furniture markets, you'll have a greater opportunity to socialize and meet new people.
Join Local Networking Groups: Step outside the industry as well! Explore local chambers of commerce, business associations, or solopreneur or entrepreneur groups in your area. These groups can be an excellent way to connect with fellow professionals and establish accountability partners who can help keep you on task.
Be Authentic: This, friends, is one of the most important aspects of anything you do to grow your business. Authenticity is key to building meaningful connections. When you present your true self, devoid of pretense or ulterior motives, people are more inclined to trust you. Being authentic will also naturally attracts people who resonate with your values and vision. Be genuine in your interactions, show interest in others, and always be yourself.
Prepare an Elevator Pitch: Have a concise and compelling introduction ready to explain who you are, what you do, and what sets your interior design business apart. Begin your elevator pitch with an attention-grabbing hook. This could be a thought-provoking question, a fun fact about you, or a compelling story related to your work. Tailor your pitch to your audience. If you're the kind of person who can think quick, you'll have no trouble with this. If you're not great at being put on the spot, craft a few versions of your pitch that you can choose from depending on who you're talking to.
Follow Up: After connecting with someone, always follow up. This demonstrates your commitment to the relationship. Stay in touch with the people you connect with so that your networking efforts become more than just a one-off interaction. Nurture your connections over time, as they may evolve into meaningful collaborations or partnerships.
High Point Market: A Networking Haven

As we're now in October, it's the perfect time to discuss one of the most significant events in our industry— High Point Market! This biannual international trade show, held in High Point, North Carolina, is a treasure trove of networking opportunities.
High Point Market brings together tens-of-thousands of professionals from all aspects of the home furnishings industry. It's an ideal place to meet fellow designers, share experiences, and forge lasting connections. Explore the vast array of exhibitors at the market, from furniture manufacturers to textile suppliers, and so much more. With countless showrooms showcasing the latest trends and innovations, you'll leave High Point Market armed with fresh ideas and design inspiration to feed your creative soul. And finally, attend seminars and events! High Point Market hosts informative talks, book signings, product launches, and all kinds of parties at various different showrooms throughout Market. High Point Market is open from Saturday, October 14th through Wednesday, October 18th. Get there early, though, because the weekend days are the best days to get your networking on!

Speaking of talks happening during High Point Market, if you're in town on Monday, October 16th, please stop by the Feizy Showroom located at 309 N. Hamilton Street for a 1:00pm talk between myself and Courtney Porter, Editor in Chief of Décor News Now, for an engaging and informative conversation based on this monthly column, Design Business Blueprint. Courtney and I will take a deep-dive into the many ways for you to strategize and grow your design business. Please RSVP here to reserve your spot.
Networking is an important way to keep you inspired, connected, and ahead of the curve. As we embark on another exciting month, remember the power of networking. Whether you're attending events like High Point Market or engaging online, building a robust network is your ticket to success. So, take the plunge, reach out, and make meaningful connections that will elevate your interior design business to new heights. Stay tuned for next month's Design Business Blueprint, where we'll dive into another crucial aspect of growing your interior design empire. Until then, happy networking!
About Design Business Blueprint
-Design Business Blueprint is a Décor News Now exclusive monthly column written by Yudi Kaufman of YKD Associates. Yudi is a multifaceted business strategist, entrepreneur, and creative, who brings years of experience navigating the home furnishings and interior design industry from the inside out. He has a background in interior design, furniture design, sustainability, e-commerce, business management, human resources, accounting, marketing, and public speaking. Yudi holds a Master's degree in Sustainable Interior Environments from New York's FIT – Fashion Institute of Technology. A true left-and-right-brainer! Check back each month for more business tips and follow @ykdassociates on Instagram.