Ethan Allen continues push to be a 'leading interior design destination'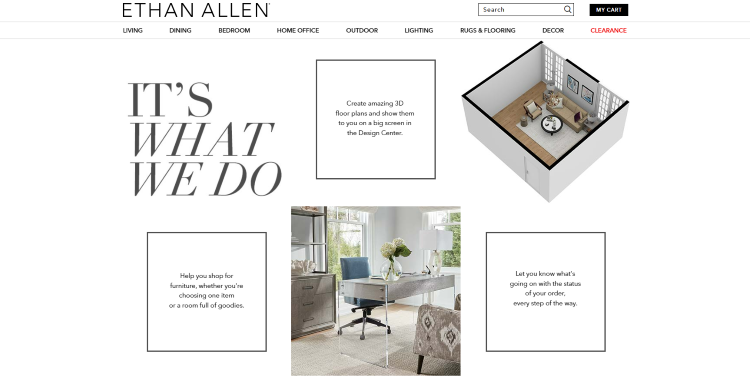 Ethan Allen is continuing its push to become a "leading interior design destination," repositioning its retail network to a design focus by upgrading its nearly 175 design centers and investing in both technology and "more qualified, more talented" designers to provide customers guidance, executives said in the company's latest earnings call.
The Danbury, Connecticut-based manufacturer and retailer reported consolidated net sales of $203.2 million, down 2.4%, for its fiscal second quarter of 2023, which ended Dec. 31. Despite the sales dip and declines in written orders at both the retail and wholesale levels, Farooq Kathwari, Ethan Allen's chair, president and CEO, said he was pleased with the overall results. He noted that gross margins had risen to 61%, operating margins had increased to 18.2% and the company's order backlog has continued to decrease. Looking ahead, Kathwari said, the company is "cautiously optimistic," in part because its retail locations are becoming more design center than furniture store — a move that gives consumers more value and boosts sales.
The company opened its latest "state-of-the-art design center" in the Chicago suburb of Skokie, Illinois, in November. "This design center projection continues to position us as a leading interior design destination. Combining (the) personal service of our talented interior designers with advanced technology is an important focus," he said in the earnings report. "Over the next twelve months, we plan to greatly enhance the projection of all our design centers." Next up are a refresh in Danbury, Connecticut, in March and a new design center in Manhattan.
In the earnings call on Jan. 25, Kathwari called the company's efforts to pair the personal services of its interior designers with technology "a game changer." The company, he said, has 30% fewer designers than it did "four or five years back, but more qualified, more talented" designers now, and is continuing to invest in technology to allow them to better serve customers, whether that is online or in-store. It's online tech services include a 3D room planner and area rug visualizer.
Within the next 12 months, Ethan Allen will refresh most of its 173 North American design centers to create a "more fashionable" and "stylish" look, Kathwari said. In most cases, that means cosmetic upgrades like new paint but also new products, he said.
Like some other producers, Ethan Allen introduced less new product in the three years since the Covid-19 pandemic began, focusing instead on filling back orders. "The good news is we were busy developing strong new products" during that same time, Kathwari told investors. "We have substantially strengthened our offerings, and new products will be introduced in the following six months."
See Also

Kathwari noted that the company's upholstery business remains strong and said it also has seen an increase in sales of home accents, in large part because of its interior designers.
"The major factor has been the interior designers' ability to utilize technology to help. That has really been a very important factor. And when they do that, they then are able to provide a much, you might say, a more total solution rather than selling items and products," he told investors. "… I think we're going to continue to see that because our business has more and more gone toward interior design."