Holly Hunt opening new showroom in LA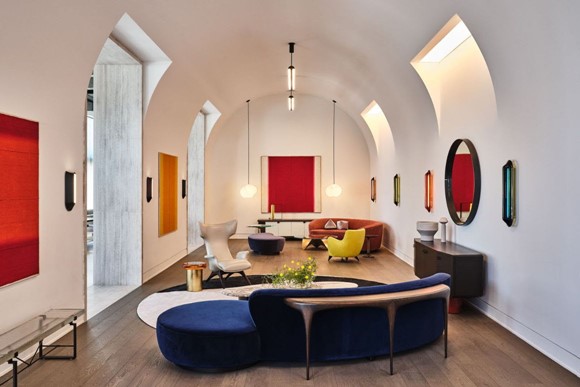 Luxury home furnishings brand Holly Hunt is opening a new flagship showroom in Los Angeles, designed in partnership with LA-based architectural firm Johnston Marklee.
The showroom on North Highland Avenue spans a half block in the city's Sycamore District and will open this month. As an example of adaptive reuse, Jo Annah Kornak, senior vice president and creative director of Chicago-based Holly Hunt, collaborated with Johnston Marklee to transform a 1940s-era building into a destination for the company's luxury furniture, wallcoverings, window shades, lighting, textiles, rugs and accessories.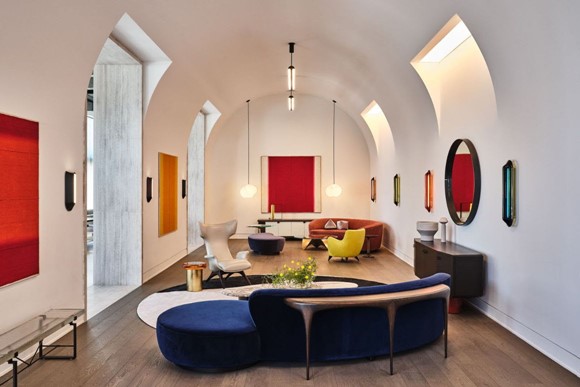 "Bringing to life Kornak's concept of creating a 'house within a house' (a nod to the company's roots in residential design), the Johnston Marklee team designed a pair of freestanding villas set inside the building's original two-story concrete structure. Surrounded by a gallery space that is reminiscent of an exterior promenade, the villas showcase a series of curated residential interior compositions outfitted with pieces from the Holly Hunt portfolio," according to a news release.
"Our new LA location is more than just a showroom; it is an expression of our core values of design, quality and craftsmanship," Kornak says. "We approached the interior architecture in the same way that we would design a new product, being very thoughtful with our use of scale, proportion and materials. I think we've created a remarkable space that is authentic to the Holly Hunt brand, but also to our new neighborhood."
Holly Hunt President Marc Szafran notes that even while growing its digital platforms, brick-and-mortar locations remain vital to the 40-year-old brand.
Inside the larger LA showroom, the North Villa serves as a gallery space to display pieces from the brand's Vladimir Kagan and Holly Hunt Studio collections. On the opposite end, the South Villa presents another series of curated residential interior rooms featuring product from across the Holly Hunt Studio, Vladimir Kagan, Caste, Christian Astuguevieille, Mark Albrecht Studio, Pouenat, McCollin Bryan, Draga & Aurel, and Moss & Lam collections.
A large circular atrium at the center of the South Villa reveals the upper mezzanine level, which is home to a library of textiles, leather, trim and rugs, along with wallcovering brands Holly Hunt Walls, Assemblage, Carlisle & Co. and a new addition to the Holly Hunt portfolio, Conrad Shades.
Designed specifically for the LA showroom, a 24-foot Vladimir Kagan Omnibus sofa anchors the gallery space and demonstrates one of Holly Hunt's customization capabilities, according to the news release.
As part of the opening, the company is introducing three bespoke lacquer finishes, featured on Boulonnais drink tables and X Base consoles by Holly Hunt Studio. The showroom also features introductions from Alison Berger Glassworks; pieces from Atelier Alain Ellouz, JMW Studio, Kevin Reilly, Stefan Gulassa, VeniceM, Humbert & Poyet for Pouenat, and Draga & Aurel; and a custom Elizabeth Lyons chandelier.
With the opening of the new showroom, Holly Hunt will decrease its space in Pacific Design Center from two showrooms to one on the sixth floor, where it will focus on textiles, wallcovering and leather, the company says.