Home furnishings that bring us together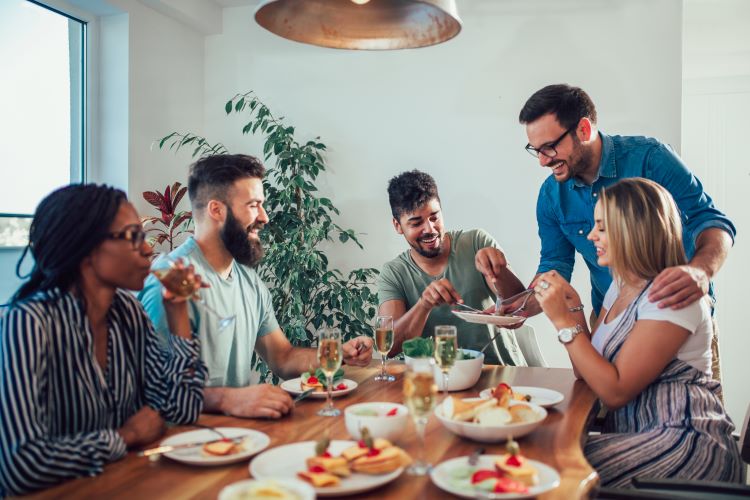 The Fall High Point Market, officially wrapping up today, had a brisk energy about it. It felt vibrant and purposeful, helped by the perfect fall weather that North Carolina delivers in October — cool mornings, warm afternoons and gorgeous blue skies when you stepped outside of showrooms to enjoy it for a few minutes.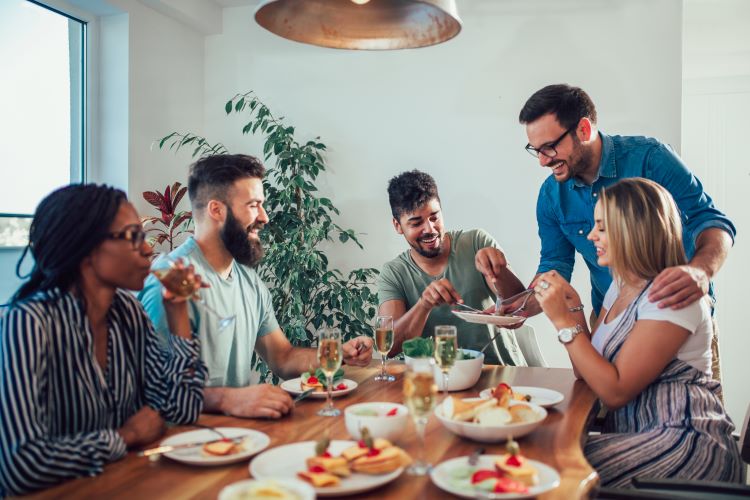 As we all strive to figure out what "normal" is these days, several exhibitors noted that they thought this market's traffic and flow is perhaps what will be typical for markets going forward. We saw busy showrooms, especially early on. On Friday, the day before the official market opening, many showrooms were abuzz with opening-day energy.
And a full slate of parties and events has returned. If your inbox was like mine in the days leading up to the show, it was flush with invitations to event after event after event.
Through the pandemic, manufacturers have learned how to develop product — to design and manage manufacturing — without always being there in-person to oversee every step and have given buyers online tools to make ordering between shows easier than ever. But it's nice to gather together, to meet face to face to build stronger relationships, to make serendipitous connections.
It was fitting, as buyers came from around the globe, that we saw so many products designed to support the idea of gathering at home. Even as people have returned to traveling, concerts, sporting events and other activities, the industry is betting that people will continue to spend more time at home with friends and family.
Industry veteran Roland Maddrey, who recently joined Casa Ispirata and Cavelletto Home as vice president of sales, talked about how the pandemic helped us remember how important it is to spend time with others, whether for a big party celebrating a milestone or a casual weekend dinner, followed by a couple of rounds of a board game. It's how his family is enjoying spending time. And he's not alone. The Arteriors showroom picked up on this trend, with a theme of "The Art of Dining" and the introduction of several dining tables and chairs.
What does that mean in terms of product? To start, it means flexible, comfortable seating. Modular sectionals, like those from Ethnicraft, American Leather and Moe's Home Collection, are as strong as ever, allowing people to reconfigure them as their needs change and encouraging people to relax and settle in for conversation and movie nights.
In-home entertaining also requires side chairs that can be moved around, pulled up to another seating group, and ottomans comfortable enough to sometimes serve as seating and adaptable enough to act as a side table with the addition of a tray on top.
It also means generously sized and often expandable dining tables, not necessarily for formal dinner parties though many would accommodate those. Tables, like Cavelletto Home's Italian Country and Banco dining tables, and Sarrreid Ltd.'s new expandable Cambiare dining table are perfect for a variety of entertaining styles.
The ultimate in large dining tables designed for entertaining might be versions that turn easily into actual game tables. Table tennis after dessert, anyone? Eichholtz's new collaboration with designer Philipp Plein includes a stunning one: the Play to Win dining table in faux white marble with a golden table tennis net that stretches across the center. Four Hands, which introduced an array of games and game tables over the summer, featured the collection prominently in its High Point showroom this market. Adam Dunn, vice president of design for Four Hands, told me the pieces, including the table tennis dining table, have quickly become bestsellers.
And casual furniture sources continue to lead the way showing consumers how to extend their entertaining spaces outdoors, even in colder climates. I like the idea of our industry not just helping people create beautiful, functional homes, but helping them make connections, too.