Off center: Asymmetric pieces add artistry to a room

To kick off our survey of asymmetry, there are new pieces from architect and interior designer Lauren Rottet. Introductions to her Rottet Collection include the Aurora table. It features an update to the traditional rectangular glass top with one sharply angled corner and a base made of three opposing pillars of amber glass, each a different length. The Walking bench, made of stone, features "legs" at jaunty angles. Such details make the pieces function as kinetic sculptures.

"Visual movement is a key ingredient to each piece," says the Houston-based Rottet. "… They fill a space with energy, reflection and graceful form, becoming the focal point of any environment." The pieces, suitable for indoor and outdoor, will debut the International Contemporary Furniture Fair May 15-17 in New York.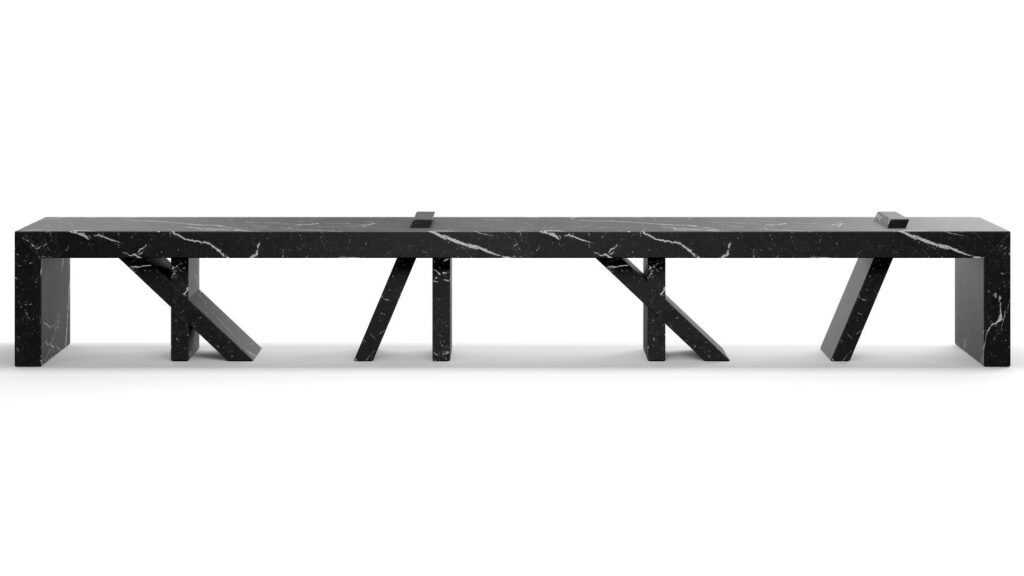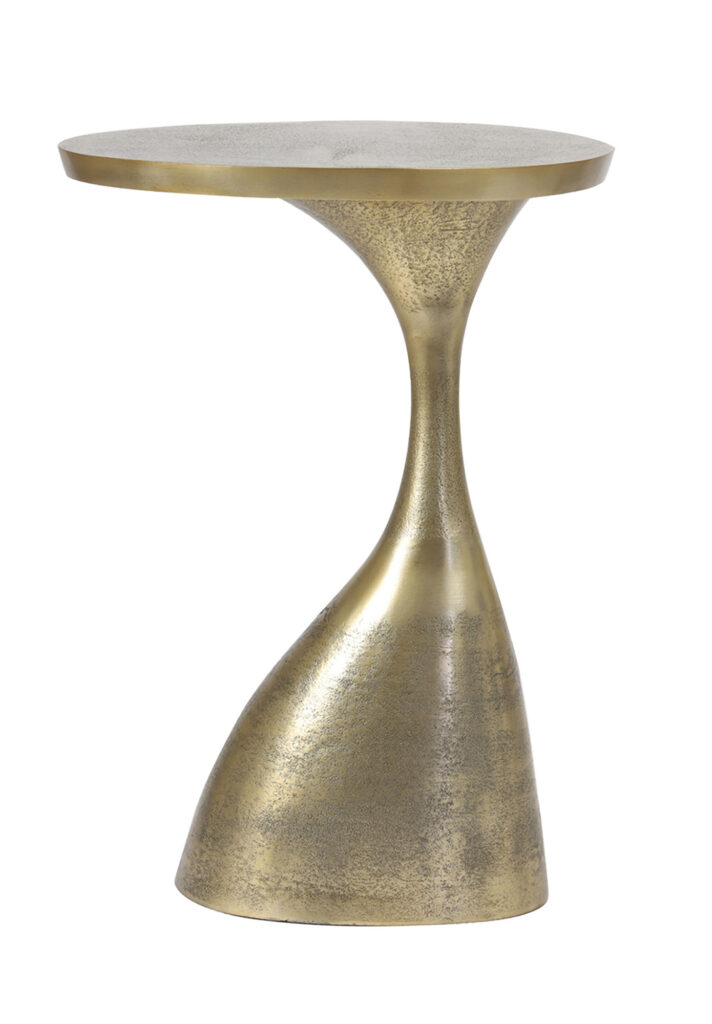 The Gaudi accent table from Portland, Oregon-based Porter Designs is a modernist cast iron design. It is an ideal place for a setting a cocktail or cup of coffee — and functions as art when not in use.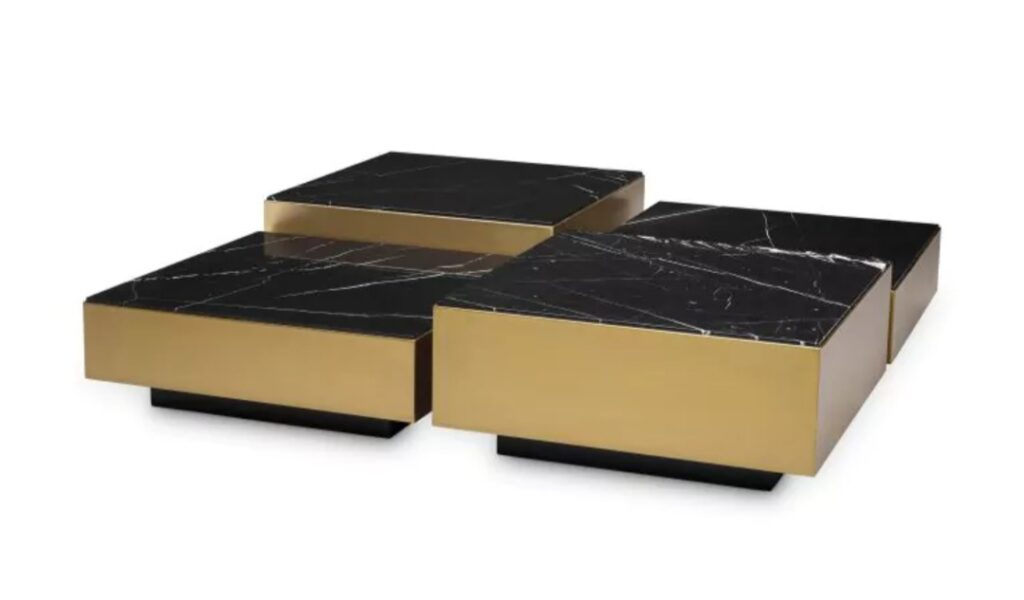 Multiple surface heights add a sense of dynamism and movement to the four-piece Esposito coffee table from Eichholtz USA in High Point. With brass sides and marble top, it is available in three colorways: brass/black, brass/white and all black.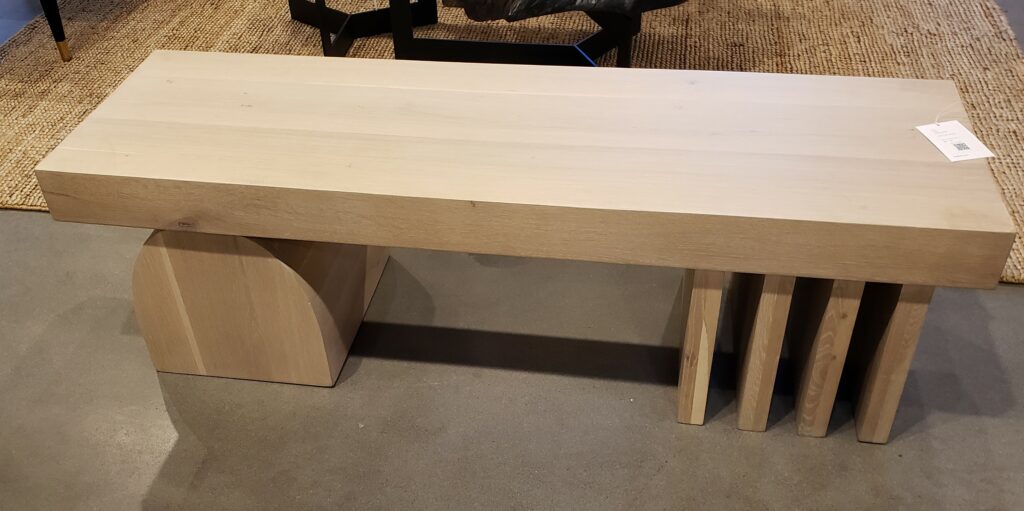 The slab-seat bench from Toronto-based Sunpan combines a sophisticated, minimalist feel with the whimsy of children's building blocks. It's suitable for outdoor use but works well in interior spaces, too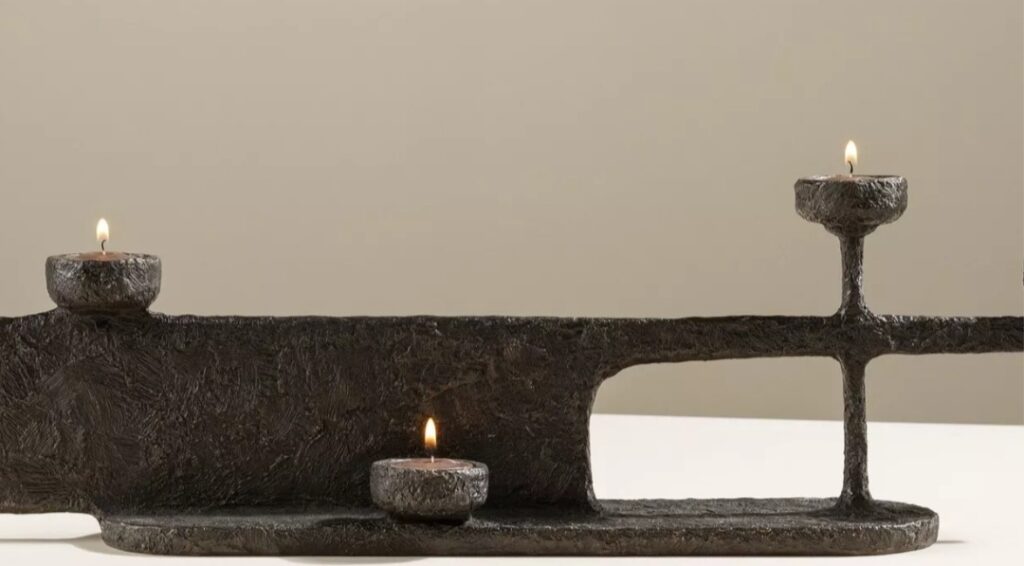 The Sloop No. 2 candle holder from Chicago-based Refractory holds five tea lights or votives. Made of cast bronze, it's available in five finishes. A slightly larger Sloop No. 1 candle holder has room for seven candles. Refractory also offers Sloop No. 3, a vertical silhouette.
Also from Refractory is the Tallow drink table, a versatile, whimsical cast bronze piece. It's available in a standard patina, as well as a high polish finish. It comes in a larger occasional table version, too.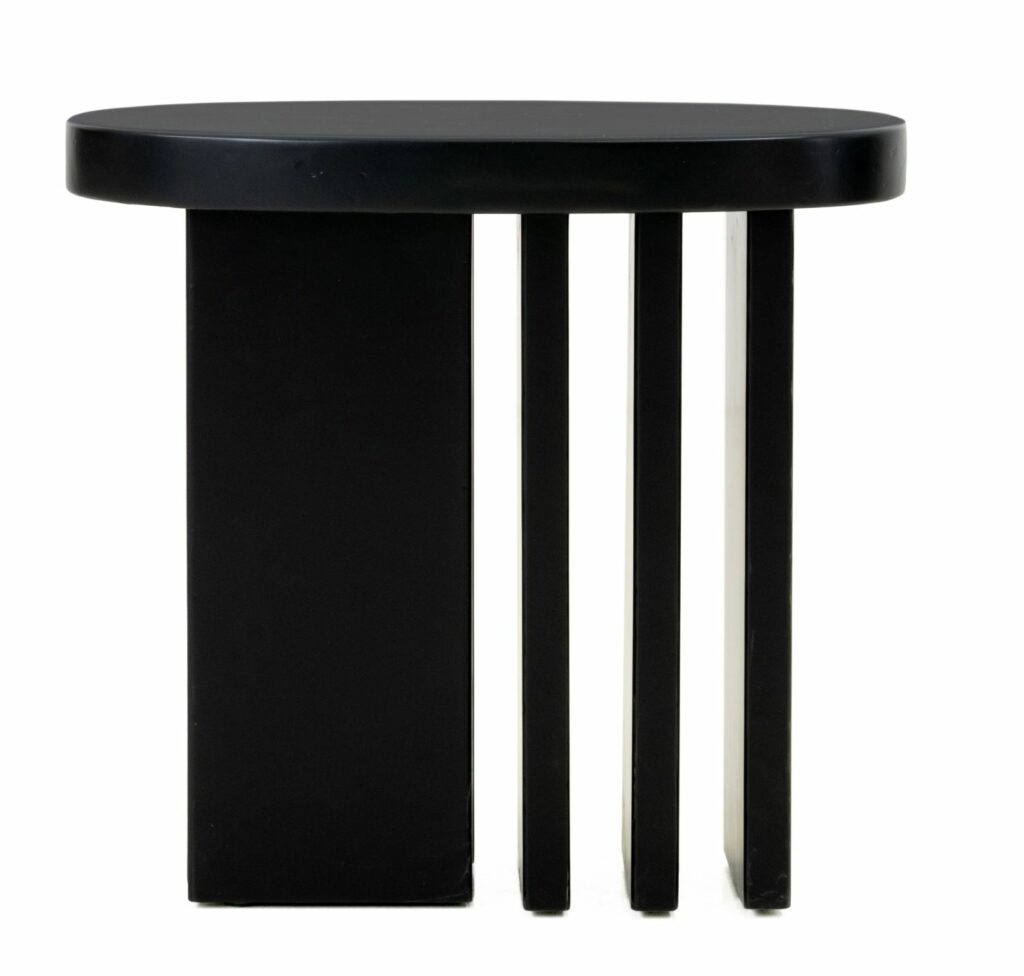 The asymmetric base of the Etta table adds a sense of dynamism to the minimalist shape. It features a matte black finish and is available as both a coffee table and side table ($279). It's designed by Carmeon Hamilton as part of The Voice Collection from Miami-based TOV Furniture.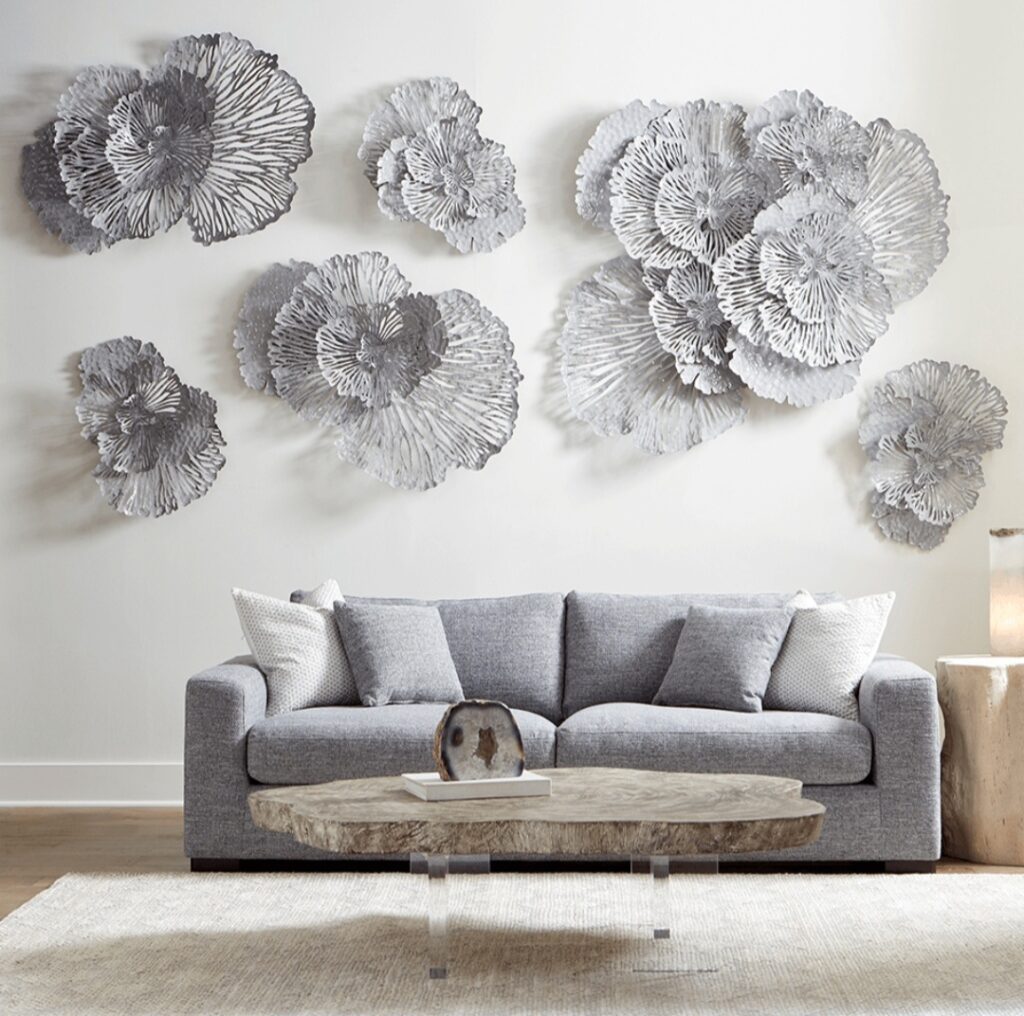 Available in small and large sizes, you can arrange the Flower wall art from the Phillips Collection in an endless variety of patterns. The filigreed, powder-coated cut metal will cast shadows on the wall for added interest. Available in black or gray from the High Point-based company. Small size is $449; large is $2,189.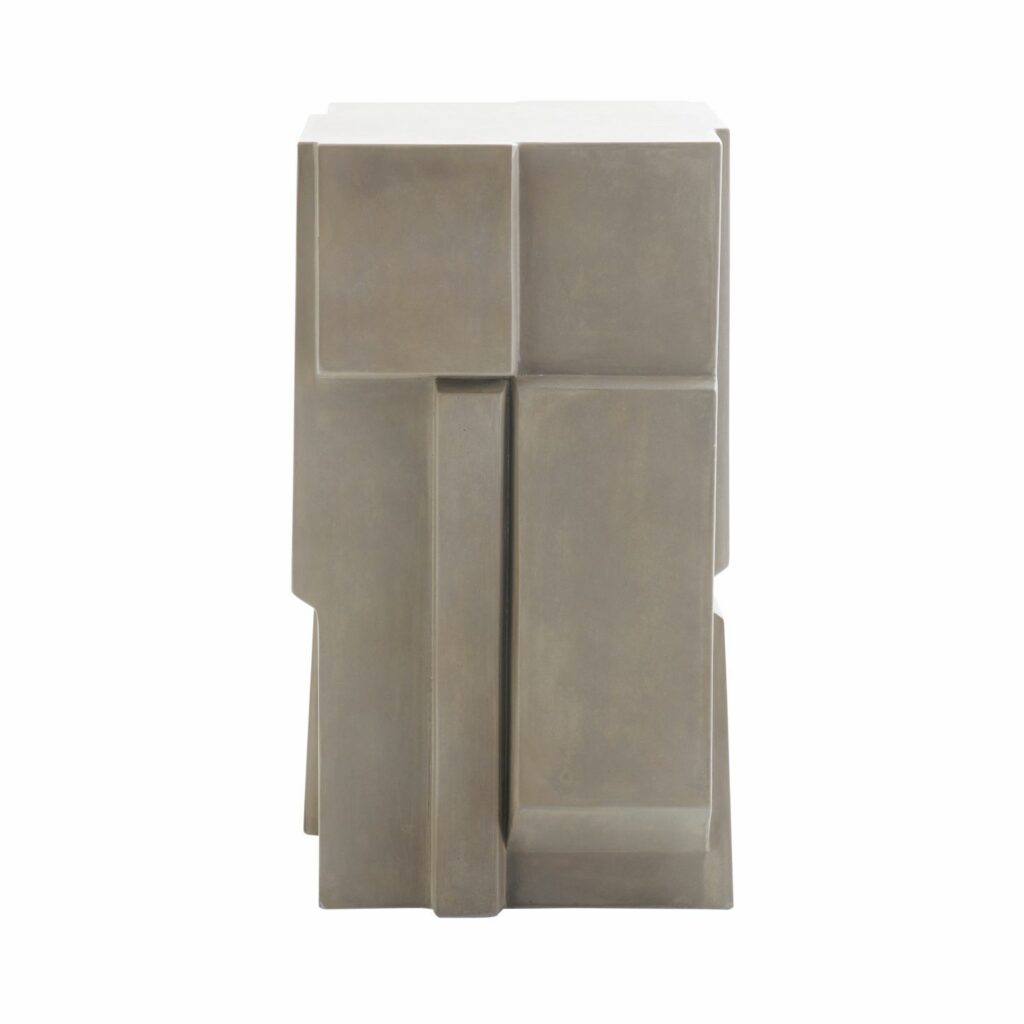 The cubist-inspired shape of the concrete Oslo accent table allows it to double as a work of art. From Dallas-based Arteriors, it features a heavily faceted, carved geometric design and a Carob finish.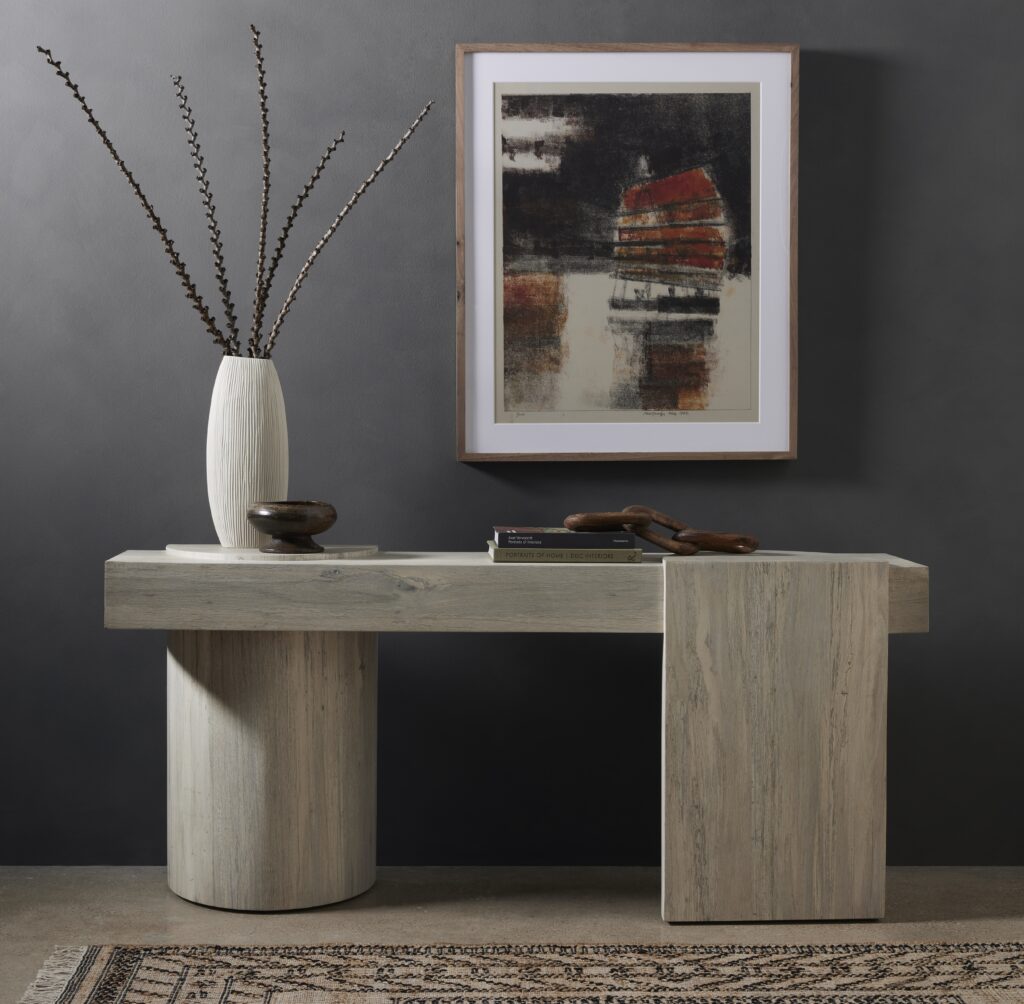 The Georgie console table from Austin, Texas-based Four Hands is made with a thick-cut bleached oak veneer in a spalted finish. Its asymmetric base has pillar-style legs and a plank top.