Trend watching: What's ahead for 2024

The upcoming High Point Market Oct. 14-18 is a great place to suss out burgeoning home furnishings trends, but it also can be helpful to head into the market with some design directions already in mind.
To help you shop the show, we've gathered trend watches from interior designers, design platforms and others. Here's a look at some of what they say will shape home design in 2024 and beyond.
Color ways
A couple of times a year, Andmore, which operates market spaces in High Point and other cities, puts out a home furnishings forecast. Its latest has a strong color component: "The Fall 2023 TrendWatch program includes stories that lead with watery blues, midtone pastels, confident brights and modern farmhouse-friendly neutrals," says Julie Smith Vincenti of Chicago-based Nine Muses Media, who curated the fall forecast.
The TrendWatch includes two overarching stories:
· The Brights & White trend speaks of modern spaces "adorned with tech colors." Think white and natural finishes topped with metallic surfaces, and bright accessories "with unexpected forms and irresistible textures."
· Andmore's Middle Ground forecast, inspired by wood finishes, is a bit warmer: "Fresh and tempting colors that mimic stone fruit, butternut squash, butterscotch or almond flour complement happy pastels, and matte finishes carry out the final impression to a tranquil dream."
In bathrooms, consumer interest in whites isn't waning, according to a recent survey by Houzz, a platform for home remodeling and design based in Palo Alto, California. People redoing their bathrooms want white walls and white countertops, but wood tones are becoming more popular for upgraded vanities, the survey indicates.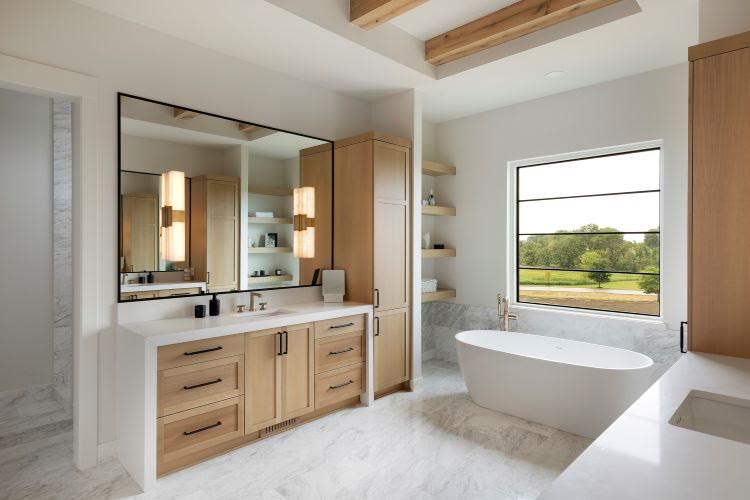 Kevin Kaminski and Alexis Pew of Philadelphia-based Kaminski + Pew see a similar move toward wood in kitchen cabinetry — and a move away from white and blue. Expect "deeper neutral tones, muted colors, wood cabinetry" that are "warm and inviting" in kitchen remodels in the coming year, they say.
In keeping with consumer interest in creating more sustainable homes (more on that below), Amanda Gunawan and Joel Wong of OWIU Design in Los Angeles expect green shades to be popular well into 2024. "Depending on the shade, green can really be used as a base neutral. A really dark forest green can read black, while a light mint green could read white, depending on the lighting and what colors you pair next to them," they say.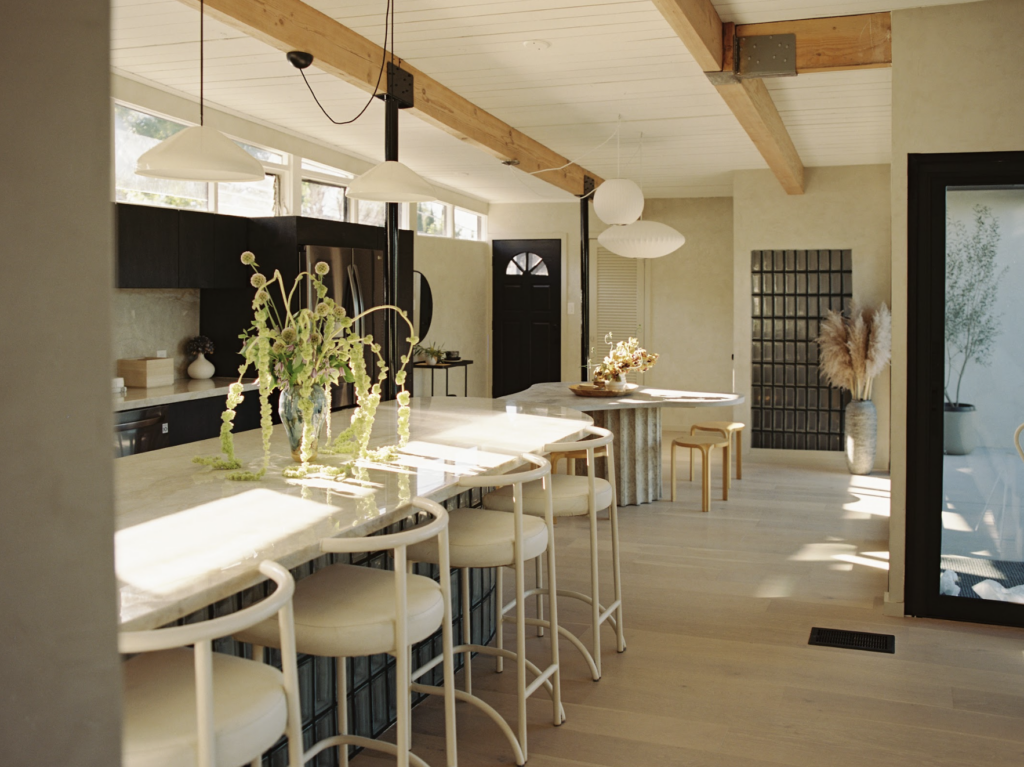 Lisa Schwert of Innate Studio in Connecticut is all-in on a broader earth-centered color palette. "I love the shift away from cooler gray tones toward the warmer, earthier color palettes found in nature," she says. "I love working with muted green, brown and taupe. I love a palette that changes with natural light; you're never sure what color it is."
Thinking beyond specific colors, Sarah Stacey of Sarah Stacey Interior Design in Austin, Texas, sees a softening of the idea that a room should have an overall warm or cool palette. "I think we will see a mixing of warm color palettes that have accents of cooler tones," she says. "No longer will we just stick with warm or cool for a space, but now we are figuring out how we can dynamically mix them."
Sustainability has staying power
"Sustainable living is becoming more prevalent, and interior design is no exception. In 2024, eco-consciousness takes center stage," declares Daniella Villamil of Las Vegas-based Daniella Villamil Interiors.
The Houzz bathroom survey backs that up, showing that most consumers (87%) are choosing sustainable features when they redo their bathrooms. Popular upgrades include LED bulbs, water-efficient fixtures and other energy-efficient lighting.
In the home, sustainability also often means bringing the outside in with natural materials.
"In 2024, we anticipate even more uses of sustainable materials in both design and building: unique pieces like seaweed lamps, features made out of mycelium or Japanese shikkui plaster that is made out of natural seaweed fibers. We at OWIU Design have already started to incorporate these into our business and look forward to them becoming even more popular," say Gunawan and Wong.
Jen Samson of Jen Samson Design in Laguna Beach, California, forecasts the trending use of natural materials as staying strong. "Clients and designers alike will be gravitating toward graphic natural stones, marbles and terracotta," she says. "Woods will also continue to be a popular material, specifically walnut and other dark, warm woods, which is a slight shift from the lighter tones we've seen in the past."
Kaminiski and Pew say raw, textured plaster or lime-washed walls are a more natural alternative to paint or wallpaper — and are a great way "to add depth and warmth to a room."
Schwert has been incorporating more natural wall treatments into her designs, too. "I have been specifying a lot of natural wall treatments like Portola's Roman Clay, lime wash, Tadelakt finishes," she says. "They create so much depth and texture in a room."
Villamil likes using biophilic design elements, including living walls. "Incorporating nature into interior spaces enhances well-being and creates a harmonious connection with the environment," she says. "By embracing green living, homeowners can create spaces that are not only aesthetically pleasing but also promote a sustainable lifestyle."
Two silhouette stories
The Andmore Brights & White TrendWatch talks of the importance of "circular forms, sculptural qualities, softened edges and inviting curves (that) encourage exploration." In a related trend are "AI-inspired textures and patterns that appear abstract, perhaps even otherworldly," according to the forecast.
Samson agrees that furniture curves continue to resonate. "But I also see this trend moving into new forms within the home, like archways, hallways and shower entries," she says. "Softer lines and organic shapes within the architecture are buzzing, too."
But Kaminski and Pew note an emerging counterpoint to plump, curvaceous seating, in particular — clean and classic traditional silhouettes "with more tailored profiles" will be hotter in 2024.
Customize and personalize
When it comes down to it, people should feel good in their homes and that sometimes means eschewing design trends in favor of what customers and clients prefer.
"The focus on discovering what makes clients happy and inspired will continue to drive the demand for personalized design themes," Stacey says. "Each space will be a reflection of the client's unique tastes, lifestyle and needs, resulting in truly one-of-a-kind interiors."
As part of this trend, Gunawan and Wong note that some clients are choosing custom furniture over ready-made pieces. "Since there are so many craftsmen that people can easily commission to make exactly what they want, we think people are buying less ready-made furniture and ordering custom-made ones instead," they say. "This makes for a bespoke piece that also is the utmost function for your needs."
Schwert says her clients' insistence on "personal values and preferences over external opinions" is one of her favorite trends. "This trend has become even more pronounced in the wake of the pandemic, as people are realizing what truly matters to them and are less concerned with keeping up with their neighbors or the latest aesthetic trends," she says. "With our expertise in architecture, interior design and real estate, we often get asked about resale value. While we provide guidance on how certain design choices may impact a home's value, we always encourage our clients to prioritize their preferences and lifestyle over potential future buyers. Ultimately, it's your home and you should choose what you love." That's a trend that we hope lasts forever.
Don't miss this trend talk
Mark your calendars for a deep dive into consumer furniture buying trends from 10 a.m. to 11 a.m. Friday, Oct. 13, at The Point in High Point. Decor News Now Editor-in-Chief Courtney Porter will join Tom Russell, editor-in-chief of sister publication Home News Now, and Alex Milstein, editor-in-chief of Bedding News Now and Casual News Now, to explore how people are living in key areas of their homes and what home furnishings they plan to buy this fall.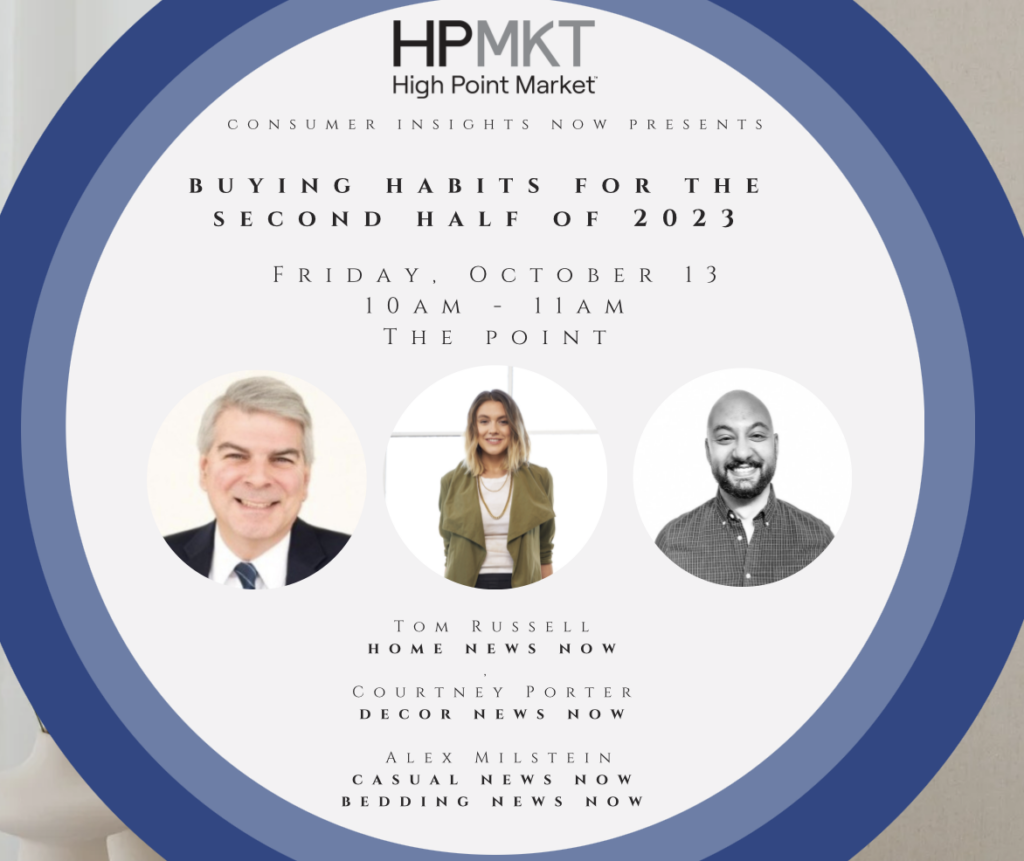 While at market
This fall, the High Point Market Authority and Esteem Media have teamed up again to sponsor the two-day Design Influencers Tour. Follow these folks on Instagram for their fun finds and trend forecasts as they tour dozens of showrooms during the High Point Market.
Evan Millárd https://www.instagram.com/evandmillard/
Jennifer Maune https://www.instagram.com/jennifermaune/
Juliana Ewer https://www.instagram.com/JSquaredHomeDesigns/
Jessica Sigmon https://www.instagram.com/itty_bitty_farmhouse/?hl=en
Divya Kandala/Praneel Pallegar https://www.instagram.com/desidiy/?hl=en
Kelly Collier-Clark https://www.instagram.com/kellycollierclark/
Amy Peltier https://www.instagram.com/peltierhome/?hl=en
Sandra Diaz-Velasco https://www.instagram.com/sandradeolo/?hl=en
Virginia Chamlee https://www.instagram.com/vchamlee/?hl=en
Kevin O'Gara https://www.instagram.com/kfogara/?hl=en