Webinar: How to take advantage of a hot housing market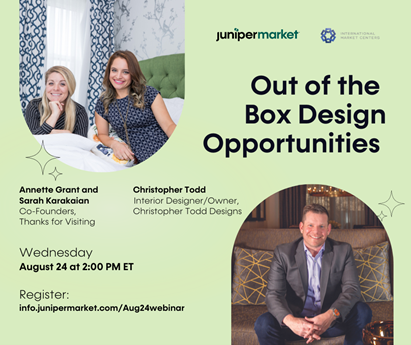 JuniperMarket is hosting an "Out of the Box Design Opportunities" webinar for interior designers to address the benefits, challenges and revenue potential of year-round design opportunities, including vacation rentals, staging, and holiday and seasonal design. The webinar will be at 2 p.m. ET Wednesday, Aug. 24.

"JuniperMarket is a valuable 24/7 sourcing tool for interior designers aiming to capitalize on the red-hot housing market by adding or expanding year-round design and home staging services," said Bill Furlong, Juniper chief executive officer in a news release. "JuniperMarket's depth and breadth of home decor, furniture and seasonal SKUs provide designers with a unique opportunity to source and shop from trusted brands between in-person markets." "Out of the Box" webinar panelists include Christopher Todd, owner of both Christopher Todd Design and Christopher Todd, a retail store in Henderson, Nevada, who has a background in special events, floral design and interior design; and Annette Grant and Sara Karakaian, co-founders of Thanks for Visiting, a company devoted to educating short-term rental owners on proper design and hospitality practices.

The speakers will address current design trends, challenges in staging, and how client and designer roles have shifted in the past two years. They will also discuss differences in larger and smaller home design projects and managing project time frames and deadlines. Diane Falvey, editor-in-chief of Furniture, Lighting & Decor will moderate. Participation in this 60-minute session is free. Pre-registration is required. To register, visit https://info.junipermarket.com/Aug24webinar.