AHFA honors Gat Caperton for distinguished service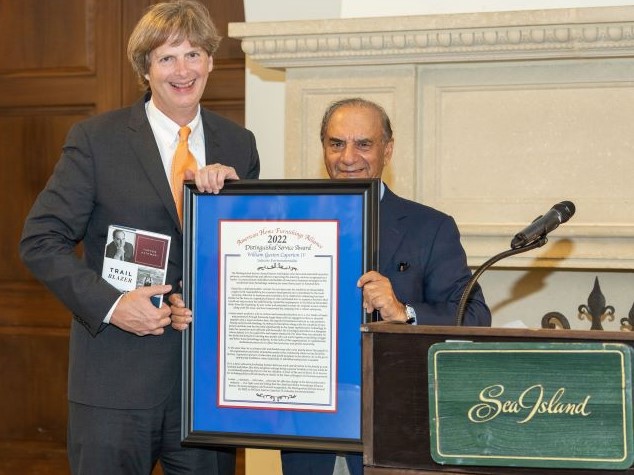 The High Point-based American Home Furnishings Alliance has awarded its highest honor, the Distinguished Service Award, to manufacturer and environmentalist William Gaston "Gat" Caperton IV.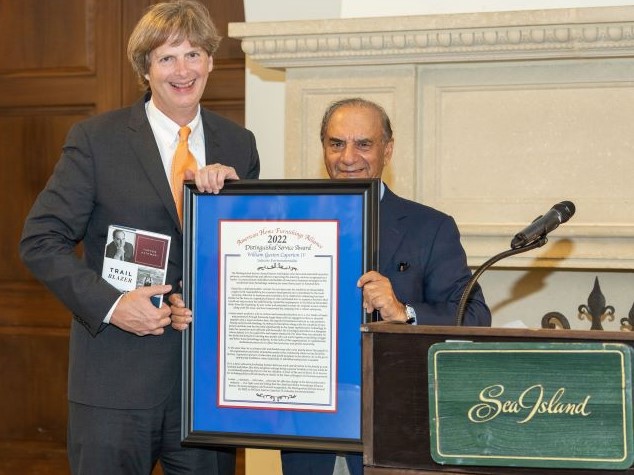 The award is presented each year to an industry executive selected for their contribution to the home furnishings industry, AHFA and their local community. Caperton is the 55th recipient of the award, which was first presented in 1966. This year's award was presented to Caperton on Nov. 4 during the organization's annual meeting and conference in Sea Island, Georgia.
In announcing the honor, Farooq Kathwari, chair, chief executive officer and president of Ethan Allen, described Caperton as a compassionate individual and a builder of innovative home furnishings business strategies over almost 30 years in the industry.
After graduating from Davidson College in Davidson, North Carolina, with a degree in economics, Caperton went to work for a real estate mogul in Chicago while studying for a master's in business administration at night. An essay he wrote as part of his application to the University of Chicago graduate school foreshadowed his future. It was titled, "I Want to Own My Own Business and Create Jobs in West Virginia."
Caperton purchased Tom Seely Furniture in Berkeley Springs, West Virginia, in 1996 and transformed the ailing company into a robust enterprise that specializes in hardwood furniture. He named it Gat Creek after a backyard creek he used to play in as a boy. Kathwari described Caperton as "super smart" and fearless, characteristics that helped him persevere through tough times. In addition to nurturing a devoted workforce and loyal customers, he embraced innovation, especially technology to make his operation more environmentally friendly.
"He is a benevolent and humble man who cares deeply about the people in his organization and takes tremendous pride in the community where he has built his factory," Kathwari said. "A generous sponsor of education and youth programs in his district, he is the go-to community trailblazer when leadership or unbridled enthusiasm is needed."
Caperton served as chair of AHFA's board of directors in 2019. He received AHFA's Sage Award for environmental excellence in 2012. He helped found and serves on the board of the Sustainable Furnishings Council. He also served on the boards of the Eastern West Virginia Community Foundation and the West Virginia Nature Conservancy, and was chair of the board of directors of the Natural Capital Investment Fund, a $45 million fund providing flexible financing to small and emerging natural resource-based businesses primarily located in the Appalachian region.