Exclusive research: Brick-and-mortar still luring shoppers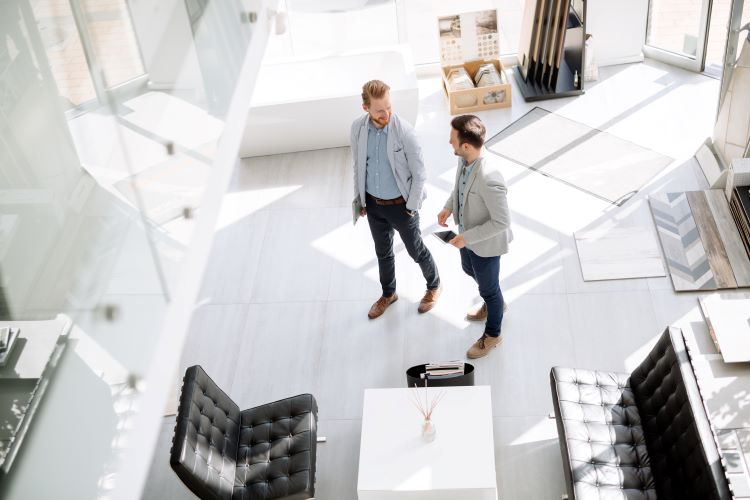 As much as we talk about consumers moving to online shopping, brick-and-mortar stores remain an important stop on their home furnishings buying journey, according to new exclusive research conducted on behalf of Decor News Now and our sister publications Home News Now and Casual News Now.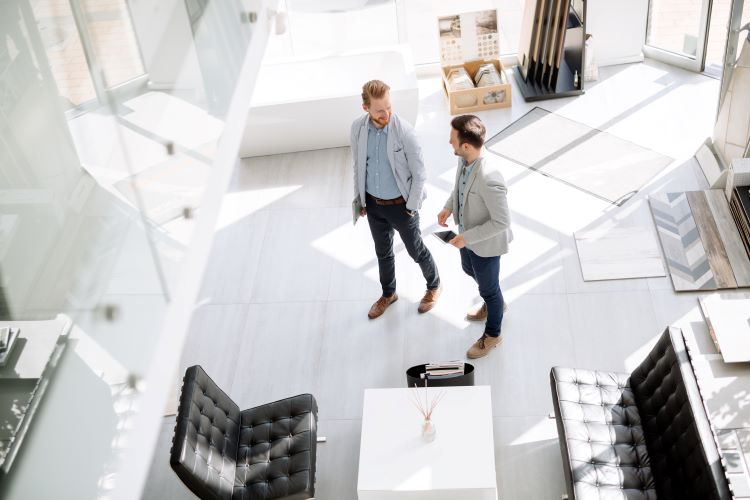 And that's true for when consumers are both researching and shopping for products, the research finds. Although generational breakdowns show that retailers will need to work harder to draw younger shoppers into their stores.
Consumer Insights Now, which is sponsored by ChargeAfter and Genesis Credit, queried nearly 2,000 consumers about their plans to purchase home furnishings in the second half of 2022, asking what categories they plan to shop, where they plan to shop, what style furniture they prefer, whether they'd like to buy in-store or online, what product features matter most to them, and much more.
We'll be releasing comprehensive national results on Monday, Sept 12. Over the following five weeks, we'll break down results across five U.S. geographical regions so that you can use the information to target consumers in the specific areas you serve.
Last week, we looked at how millennials and Generation Z will be driving home furnishings purchases for the remainder of 2022. This week, we're giving you a sneak peek of another piece of the research: insights into in-store vs. online shopping trends.
Where they do their research
When consumers are starting their shopping process, for instance, researching products and prices, about one third begin online (31%) with a general product search, another 23% specifically visit a furniture retailer's website and 8% check out social media. Taken together, that's a lot of online research. But about a quarter (26%) of shoppers say they start their furniture shopping process by visiting a retailer's store. That's a significant number of browsers. Not surprisingly, baby boomers and Generation Zers are mostly likely to visit a store early in the process. (Folks who've been in the industry for awhile and remember when the Sunday newspaper use to be full of full-page department store and furniture store ads and glossy supplements will note how much times have changed. Only 1% of shoppers use newspapers as a first stop on their shopping journey.)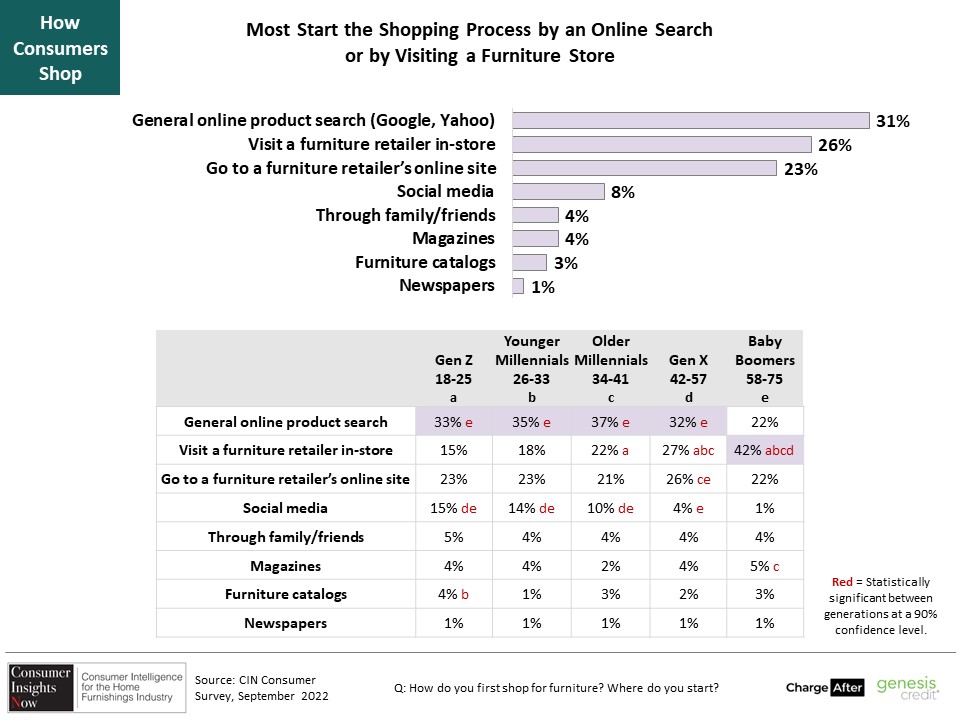 These results, I think, hint at something else important: Consumers are using a mix of methods to learn more about products — no one way stands out far above the others. That means consumers can encounter your furniture or retail brand in a variety of places. For you to register in their minds, you need a cohesive omnichannel branding strategy — from your corporate voice to the style of imagery you use — so that all messaging is consistent. Whether they find you on Instagram or on Main Street, consumers need to instantaneously think, "That's Company A. I like their furniture."
Where they do their shopping
When it comes to actually shopping for furniture, brick-and-mortar stores continue to be the primary destination for consumers. About 46% of consumers say they typically shop online but 62% say they typically shop local furniture stores. Another 52% visit national furniture chains, 41% make a trip to big-box stores and 15% typically stop by local designer boutiques. I have to be honest in saying I was surprised, pleasantly so, to see that local furniture stores top that list.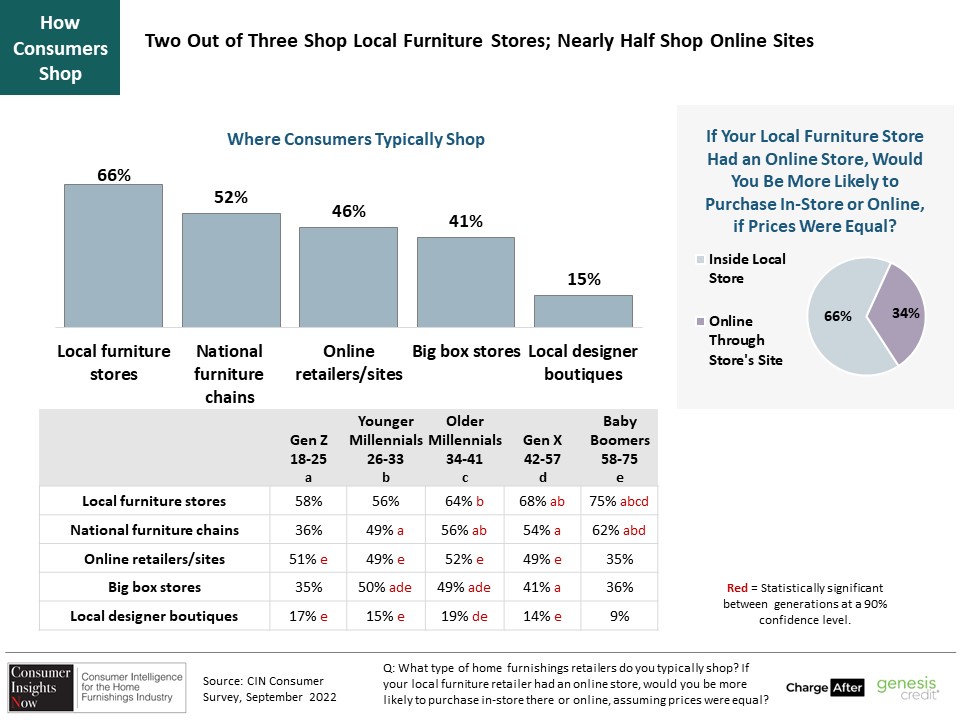 And this is really fascinating: The survey asked: "If your local furniture store had an online store, would you be more likely to purchase in-store or online, if prices were equal." Two-thirds said they'd be more likely to shop the brick-and-mortar location. The other third are more likely to buy online.
The research doesn't delve into the reasons behind that answer but I suspect a primary one is that many consumers still want to physically see — and touch — home furnishings. How blue is the gray on that sofa fabric? How soft is that area rug I'm planning to put in the den, where the kids are going to lie around on it? Even the best photography, product descriptions and 3D animators can't yet convey factors like those.
This is especially true of big-ticket items that consumers are likely to keep in their homes for years. Even with companies offering generous return policies, consumers are more likely to purchase items like sofas (79%), dining room furniture (74%), a mattress for a primary bedroom (69%) and other living room furniture (68%) in-store, the research finds.
About the survey: Consumer Insights Now surveyed 1,993 U.S. consumers from July 11-13, 2022. All respondents planned to purchase one or more home furnishings products between July and December 2022, and all were either the primary or joint purchase decision-maker. The sample includes a mix of females and males, ages 18 to 74, and includes a representative mix of ages, ethnicities, household incomes and homeowners/renters. Dana French, who has more than 20 years of home furnishings and consumer research experience, leads Consumer Insights Now project, which is sponsored by ChargeAfter and Genesis Credit.