Leading light: Model No. debuts line of lamps and pendants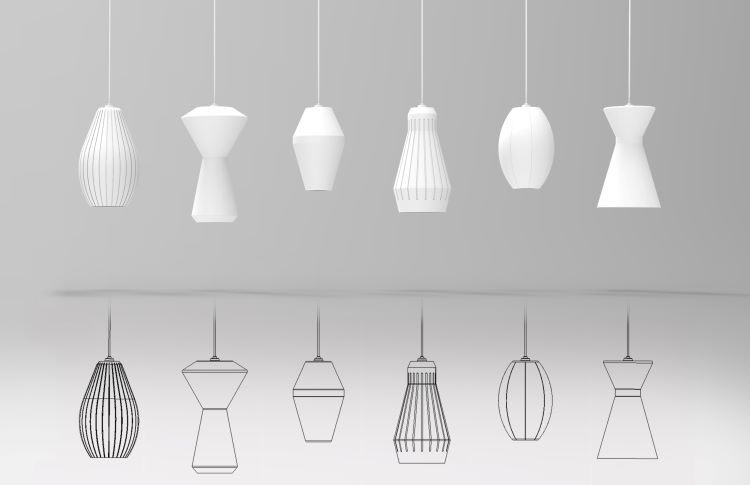 Sustainable, high-end furniture manufacturer Model No. is introducing its first full line of lighting — all the lamps and fixtures 3D printed from a mix of food waste, wood dust, and corn and sugar processing leftovers. But the company says the style of the line is as important as the sustainable components used to produce each piece.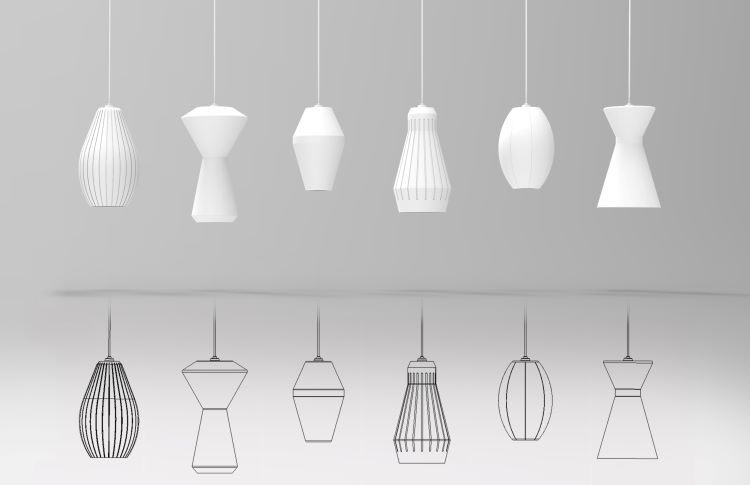 "There is so much that can be done with our 3D printers by way of creating interesting designs and innovative shapes, sizes, colors and configurations that can be mixed and matched for different types of spaces," says Jeffrey McGrew, co-founder and chief technology officer for the Oakland, California-based company. "With lighting, we felt there was a real opportunity for us to be creative and inventive in this way."
The table lamps, floor lamps and lighting fixtures are 3D printed using polylactic acid, or PLA, pellets made from agricultural and other waste. It's the same material Model No. uses to produce its Solis series of sculptural outdoor furniture. The company produces a range of high-end indoor and outdoor furniture and home accessories — many pieces 3D printed and others made with natural fabrics, hardwoods certified by the Forest Stewardship Council and salvaged woods. All of its materials and components are primarily sourced from local and U.S. suppliers, the company says.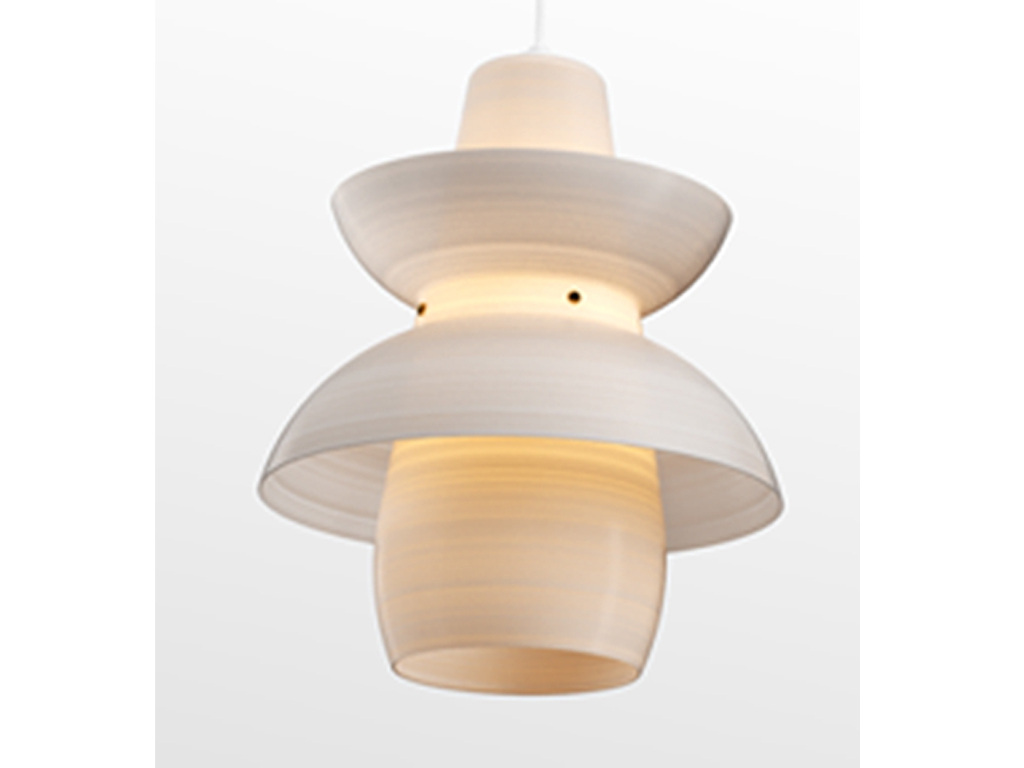 Model No.'s new lighting line includes more than a dozen lamps and fixtures in several collections and styles:
Eos is a group of five table lamps in simple, geometric shapes that the company says "share form, scale and playful negative spaces." The base of each is made with sustainable hardwood or salvaged elm. They can be grouped or used individually, with each lamp retail priced at $430.
The 3-Point floor lamp has a strong midcentury modern vibe. Its 3D printed shade sits atop a tripod of hardwood legs ($800).
The six pendants in the Amphora series were inspired by ancient vases of the Mediterranean, according to the company. They are designed to be used individually in a smaller space or grouped for a dramatic presentation in a larger room ($330-$480, depending on configuration).
The Celestial pendant calls to mind stars and the celestial sky. It can sparkle brightly on its own or be combined with other Celestial pendants into a constellation ($330-$480, depending on configuration).
Model No. designers looked skyward again to find inspiration for the Cumulus pendant, named for the fluffy white, fair-weather clouds ($330-$480, depending on configuration).
The LED lamps and fixtures come with two options: a warm amber LED or a vivid bright white LED.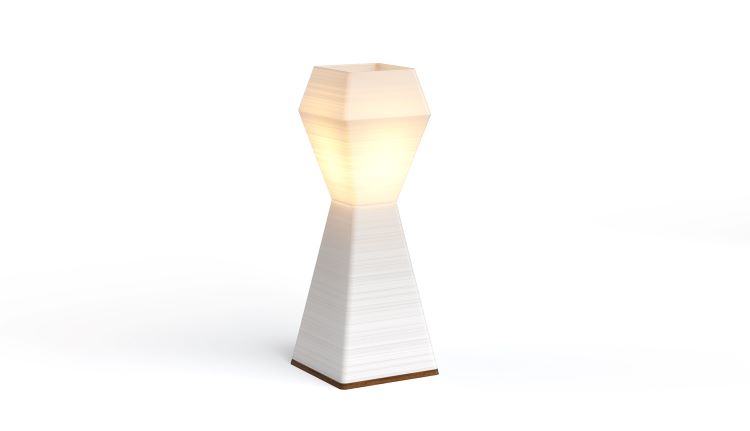 "The effect is pretty extraordinary because of the translucency of the PLA material that directs the light," McGrew says. "It has a really striking glow and color through the material."
The line is available through Model No. and also through retail partners 1stDibs and Wayfair's luxury home e-commerce site Perigold.
"Both retailers will be carrying a selection of products from us, including the new lighting collections," McGrew says. "We felt aligned with both Perigold and 1stDibs as they each do a nice job of presenting quality products to their discerning customers. Our mission is rooted in a high-tech, high-end and low-impact approach, so we feel that we bring a unique and new customer, who is not only attracted to a modern aesthetic but is mindful about consumption and shopping sustainably. Retailers who share this ethos with us are typically a good fit for our products."
The company says its manufacturing method eliminates long lead times, and the new lighting fixtures are shipped within five weeks of purchase.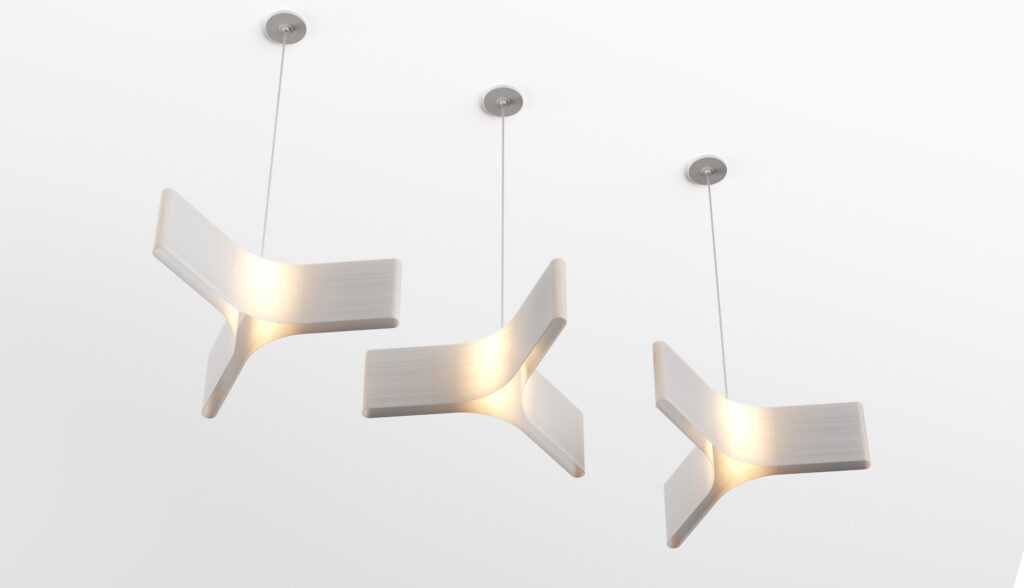 Model No.'s lighting line was designed in-house but McGrew says the company is collaborating with other artists and designers on home introductions slated for later this year. The company plans to show in Miami at Design Miami Nov. 30-Dec. 4 and the companion Art Basel event Dec. 1-4.
"Next year, we are planning on prioritizing Modernism Week, ICFF, NeoCon and a few other shows to best connect with our A&D and commercial audience on innovative sustainable projects," McGrew says. "We see a huge opportunity to create beautiful but also sustainable and healthy living and work environments in both residential and commercial environments, so we always look forward to connecting at these shows."