Urban Villages breaks ground on Populus, the first carbon positive hotel in the United States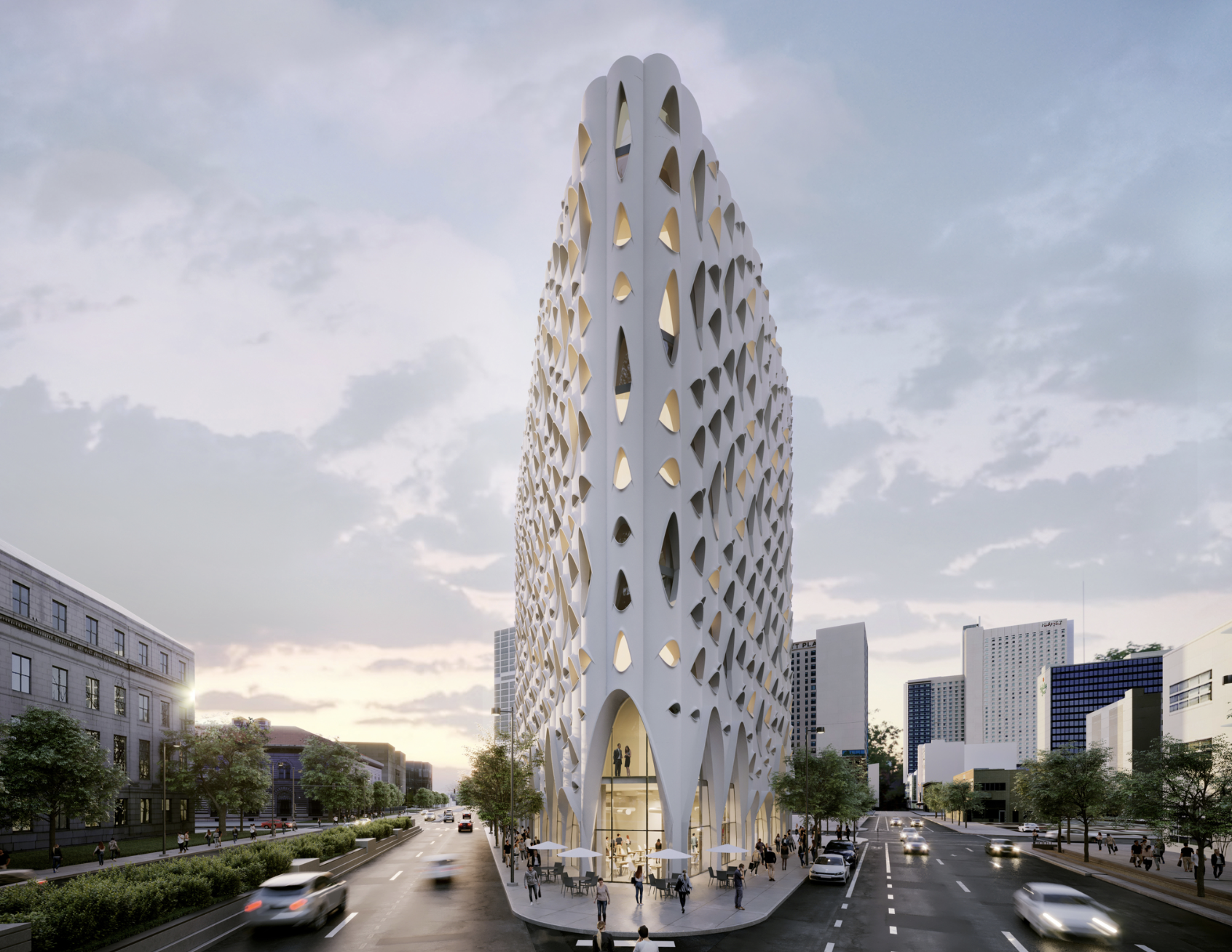 Environmental Stewards to Open 265-Room Hotel Designed by Renowned Studio Gang in
Denver in Early 2024, Serving as an Architectural Landmark and Milestone for Sustainable Travel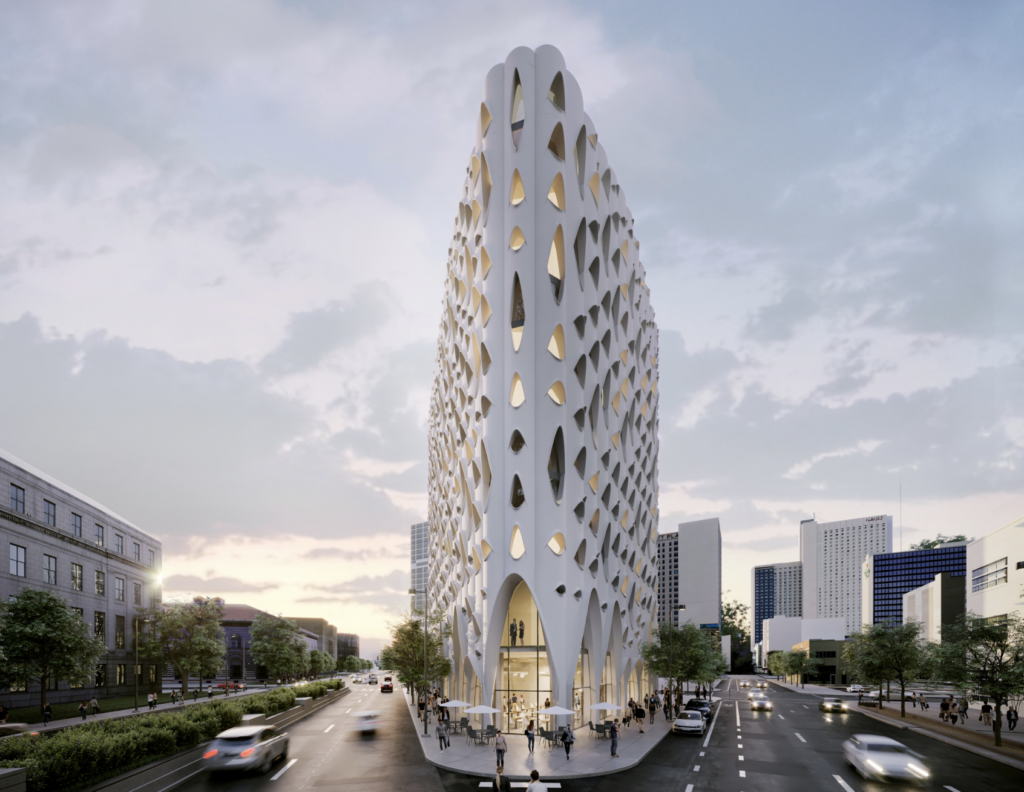 DENVER, COLO. – Urban Villages, a leading real estate developer and
environmental steward, is pleased to announce the start of construction on Populus, the first
carbon positive hotel in the Unites States. Opening in early 2024 and unlike anything Denver
has ever seen, the 265-room hotel will include a rooftop restaurant and bar offering spectacular
views of the mountains and city skyline, distinct retail destinations and event spaces, and an
iconic Aspen tree-inspired design by AD100 architecture and urban design practice, Studio
Gang. Urban Villages is developing Populus to be carbon positive thanks both to its sustainable
design and construction features as well as a substantial ecological effort offsite, including an
initial commitment to planting trees that represent over 5,000 acres of forest – offsetting an
embodied carbon footprint equivalent to nearly 500,000 gallons of gas and removing additional
carbon dioxide from the atmosphere.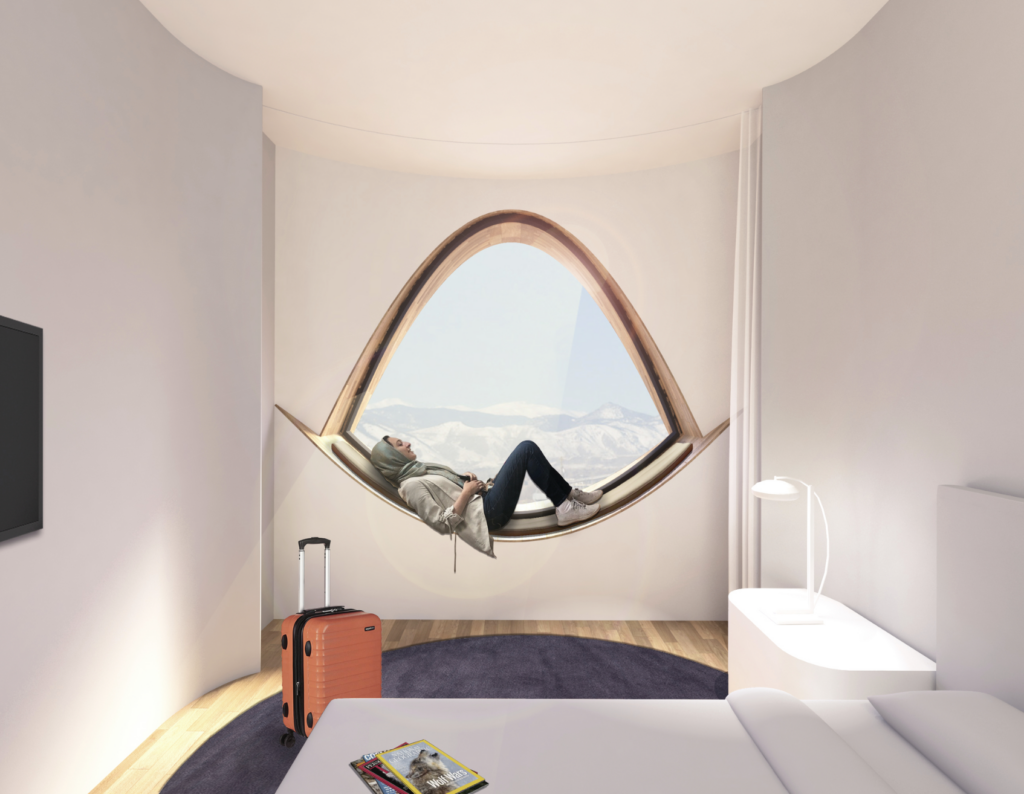 "To truly impact our earth, carbon neutral developments are no longer enough. Populus will be
entirely carbon positive starting with its construction and continuing through to its ongoing
operations while acting as a vibrant social center for locals and visitors," says Grant McCargo,
Urban Villages' Co-Founder, Chief Executive Officer, Chief Environmental Officer, and Partner.
"Not only will Populus be the country's first carbon positive hotel, but it will be a stunning
architectural landmark by Studio Gang that will forever alter Denver's skyline and contribute to
the architectural legacy of the entire Mountain West."

"We've created Populus to be a catalyst for change and to meet the increasing preference by today's consumers to travel responsibly, experience places in an authentic way, and connect more deeply with nature and each other," says Jon Buerge, Chief Development Officer and Partner at Urban Villages. "An earth emergency demands that we strengthen our influence, and Populus is just the beginning."

"At Urban Villages, we're proud to create developments that make a positive impact on our communities," says Jeff Hermanson, Partner of Urban Villages and the longtime owner and steward of Denver's iconic Larimer Square. "Populus will make Denver a better and more vibrant city, while setting a precedent for sustainable travel across the country."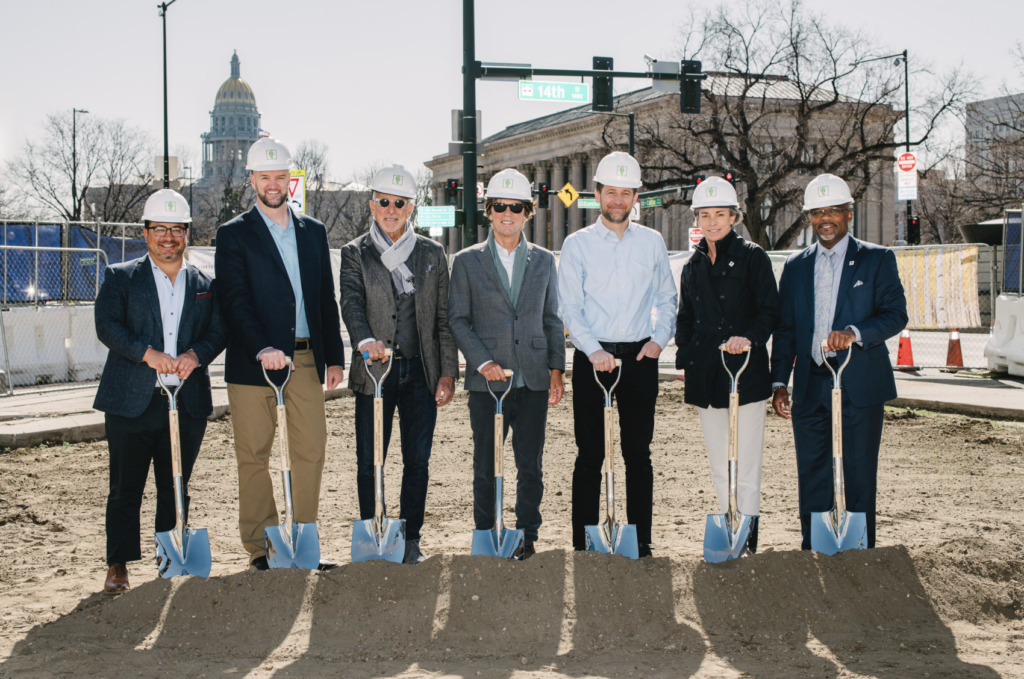 Revolutionary Strides in Sustainability

Urban Villages is at the forefront of sustainable hospitality, just as consumers around the world
are recognizing and standing up to environmental challenges that impact our lives and
economy. A recent study by Kind Traveler shows that 96% of travelers want their vacation
dollars to positively impact the place they visit – further underscoring the demand for a
destination like Populus.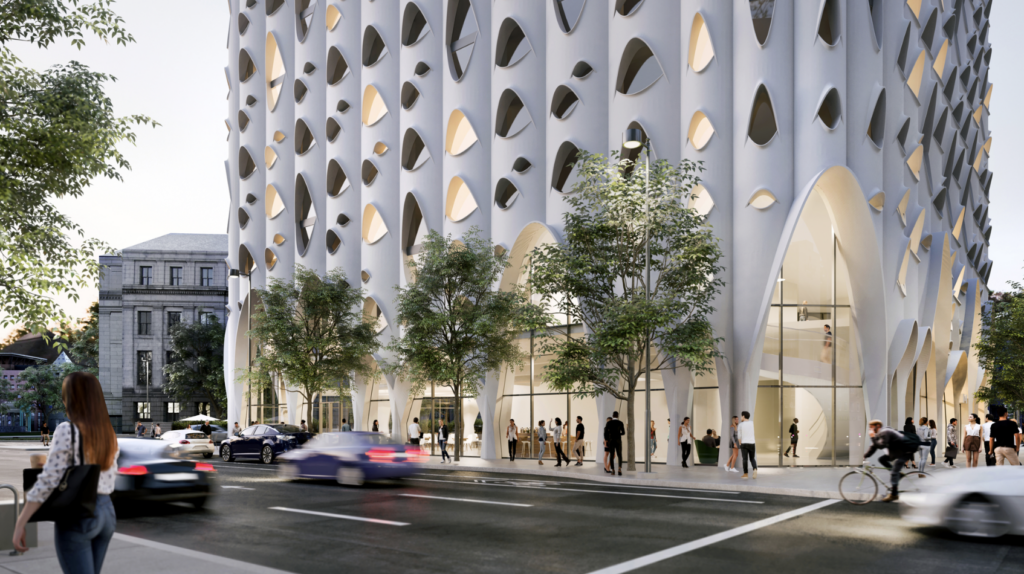 Further, real estate's impact on the environment is dire and intensifying, with buildings
currently accounting for 45 percent of greenhouse emissions in the United States* – and this
includes the development of new hotels. In fact, the world will add the square-footage
equivalent of New York City every 35 days. Urban Villages is responding to this immediate crisis,
in part, with Populus, which will surpass its carbon footprint by implementing green practices
derived from extensive research and scientific studies. Urban Villages has calculated the carbon
footprint of Populus and made a long-term commitment to be carbon positive. Instead of
purchasing untraceable carbon credits as many others do, Urban Villages is accomplishing
Populus' carbon positive status by proactively planting and growing trees to make a tangible
impact.

Populus will minimize its carbon footprint in the development stage using low-carbon concrete
mixes, high-recycled content materials, maximizing structural efficiency, using fewer finish
materials, minimizing waste, and more. This considers every stage of Populus, beginning with
the origin of materials, as well as the carbon footprint of creating and transporting them.
Populus' ongoing operations will also be carbon positive, so that the hotel's overall use
(operational carbon) along with every guest stay will be offset in addition to the building's
embodied carbon.

Located at the site of Colorado's first gas station at 14th Street and Colfax Avenue, Populus will
radically shift the narrative of this busy intersection by becoming the first new-build hotel in
Denver without any onsite parking. Parking garages are built of steel and reinforced concrete,
which increase carbon profiles — particularly through the manufacturing and transporting of
materials. By removing parking entirely, encouraging the use of public transportation, and
partnering with existing parking structures nearby, Populus will significantly reduce its carbon
footprint and prove that onsite parking is not always necessary as our cities evolve towards a
more pedestrian-friendly environment.

Populus will also follow U.S. Green Building Council codes and is targeting LEED Gold
certification.
Architecture and Biophilic Design

To design Populus, Urban Villages partnered with world-class architecture firm, Studio Gang, due to their shared commitment to sustainability and inspiring approach to creating spaces that connect between people with each other and their environments. Studio Gang, named among Architectural Digest's AD100 since 2017, is founded and led by Jeanne Gang – a MacArthur Fellow and one of TIME Magazine's top 100 most influential people – features breathtaking projects across the Americas and Europe. Populus is Studio Gang's first building in Colorado. "Improving the resiliency of our cities has never been more urgent—and it includes reducing carbon emissions as well as strengthening community bonds," says Jeanne Gang, founder of Studio Gang. "We've designed Populus to be a new destination in downtown Denver that combines these environmental and social ambitions. With its distinctive aspen eye windows, the building cultivates a lively pedestrian scene in its neighborhood, while simultaneously connecting you with views of the natural wonders beyond the city limits. The windows and façade are also tuned for high environmental performance—self-shading, insulating, and channeling rainwater—as part of the architecture's larger green vision."

Inspired by nature, Studio Gang's design for Populus was informed by studying the characteristic patterns found on Colorado's native Aspen tree – Populus Tremuloides – an instantly recognizable symbol of the state. The building's distinctive windows echo the "Aspen eyes" while also designed to perform efficiently in Denver's varied climate. The texture and rhythm of the façade is optimized to the program inside, with "lids" over each window extending slightly outward to shade the interior of the building and improves energy performance. These "lids" also neatly channel rainwater to keep the façade of Populus looking continually clean and bright. On the interior, the windows changes in size to reflect the public or private nature of various spaces, with windows up to 30 feet high at the building's base that frame entrances and views into the lobby and amenity spaces. Inside the rooms, hotel guests have immersive mountain and city views through windows, which also become occupiable, transforming into seats or desks that further connect occupants with the outdoors. The result is a stunningly beautiful, sustainable design that is deeply connected to nature and its surrounding neighborhood.

Populus will be constructed by The Beck Group, the largest integrated design-build firm in the United States with an office in Denver.
Uncommon Hospitality by Urban Villages

Populus is a distinctive hospitality project destined to become an energetic new social center in downtown Denver. Featuring a daring yet tranquil design, the 13-story hotel is comprised of 265 modern guest rooms and dynamic social areas, including a signature rooftop bar and restaurant offering unobstructed views of the mountains, city skyline, and Civic Center Park.
Upon entry, guests will be greeted by an eclectic mix of eateries with the ability to evolve from a morning café to an evening wine bar. This unique, high-design space will function as a lobby without ever looking or feeling like one. A grand staircase extends the activated street-level experience to the curated second floor—a flexible area that can accommodate large business meetings, co-working areas, weddings and celebrations, or pop-up events. The top floor will feature a series of hospitality-style suites, bookable for private social or corporate events. Still, the most coveted gathering space will be the signature rooftop bar and restaurant, which will enliven the neighborhood and entice a captivating mix of locals and visitors to watch, savor, and connect. The public rooftop will feature an expansive garden terrace planted with regional vegetation, which serves as a lush place to socialize and a visual representation of Populus' green ethos while naturally cooling the building.

The hotel will serve as the catalyst for the revitalization of Denver's Civic Center Park – the
centerpiece of Denver's thriving urban core, which is destined for dramatic change over the
next decade. Populus will be the area's first true leisure hotel, breathing new life into this nexus
of history, culture, government, and business enterprise, while attracting visitors for its
groundbreaking sustainability, vibrant experiences, and iconic design.
Urban Villages as Environmental Stewards

For over two decades, Urban Villages has developed and operated extraordinary projects across
the United States that define environmental stewardship while delivering strong financial
returns. Its impressive portfolio includes Denver's iconic Larimer Square, which successfully
combined specialty placemaking and innovative urban farming; Denver's Sugar Block, which
blended adaptive re-use of the Historic Sugar Building with architecturally dynamic urban infill;
West Village at UC Davis, the largest planned Net-Zero energy community in U.S.; and RailSpur,
a multi-project revitalization in Seattle featuring adaptive re-use of historic warehouses
retrofitted for LEED Platinum certification. Urban Villages' dynamic approach to designing and
cultivating the next vibrant neighborhood changes the way people think and feel in their
surroundings. With meticulous attention to quality, architecture, sustainability, and value
creation, Urban Villages blends the future with forgotten stories of the past to infuse areas with
meaning and timelessness.

For more information on Populus, visit urban-villages.com/portfolio/populus/ or follow along at
@Urban.Villages.

ABOUT URBAN VILLAGES, INC.

Urban Villages curates experiences through integrated real estate development and property management ventures unique to each location. The firm designs, constructs, and invests in
dynamic, district-wide ventures anchored by extraordinary buildings and the spaces that
connect them. No two projects ever look alike. And no endeavor is limited to a single building.
The company views structures within organic, evolving networks. It redefines urban design and
ecological planning to balance economic needs with environmental concerns. Urban Villages'
projects use less energy, consume fewer natural materials, generate long-lasting returns, and
enhance communities. http://www.urbanvillages.com

Photos by Ryan Dearth